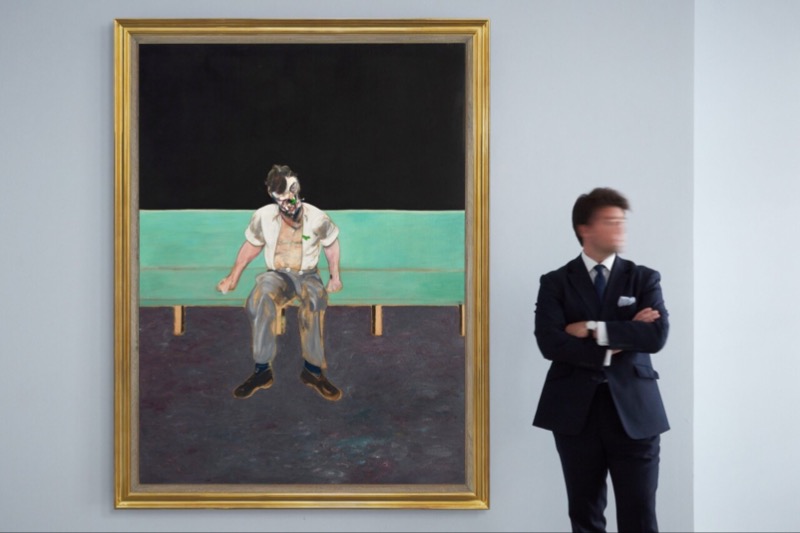 At auction, rare Francis Bacon painting sold for $52.8 million
At auction, rare Francis Bacon painting sold for $52.8 million
Rare Francis Bacon painting sold for £43.4 million ($52.8 million) at Sotheby's London on Wednesday, the first time it sold in its nearly six-decade existence.
Originally intended to be the centerpiece of a massive triptych — a multi-part artistic arrangement beloved by Bacon — "Study for Portrait of Lucian Freud" was painted in 1964. However, Bacon soon realized his compositions should be seen as stand-alone pieces.
Lucien Freud, formerly a friend of Francis Bacon's but by the mid-1980s an enemy, is depicted in these intimate works. Shortly after they were completed, the three pieces of art were shown simultaneously in Stockholm and Hamburg in 1965. The museum in Jerusalem has one side panel, while the private collection has the other.
Sotheby's said the painting sold for more than its initial estimate of £35 million ($42 million), but experts had expected it to sell for much less than that. The painting is now the most expensive single-panel Bacon ever sold at auction.
"Study for Portrait of Lucian Freud" had been hidden away in a private collection for 40 years prior to the auction, according to Sotheby's, which displayed the painting in London last weekend before the auction.
The tumultuous and well-documented relationship between Freud and Bacon adds yet another level of complexity and value to this portrait. The two were said to have been inseparable until the 1980s, when the professional competition got the better of them. The Observer, a British newspaper, obtained several recordings of Bacon mocking Freud's abilities at the time, which were made public in 2018.
Related Posts
As late as 1982, the two pillars of British contemporary art, Freud and Bacon, were no longer speaking to each other. As a symbol of their broken friendship, Francis Bacon's tender "Study for Lucian Freud's Portrait" is melancholy. It was painted decades before their split.
In the opinion of Lucien Freud's daughter, Bella Freud, a fashion designer, the friendship's deterioration left a lasting impression.
"Francis was clearly somebody who he adored and admired. And there weren't many people my father talked about in that way," she said in an interview before the auction occured.
"The things he repeated about him were just dazzling, utterly disarming and breathtakingly wonderful, and silencing because of their brilliance. I imagine he must have missed that when he stopped being friendly with him," she said.
Concerning art auctions, Bacon is well-known as a big-hitter whose works routinely exceed their pre-sale estimates. Trilogy Inspired by Aeschylus' Oresteia sold for $84 million in 2020, far exceeding the original estimate of $60-80 million.
The most expensive work of art ever sold at auction was a Lucien Freud triptych from 1969 that sold for $142 million in just six minutes nearly ten years ago in 2013. In 2017, Leonardo da Vinci's "Salvator Mundi" became the world's most expensive painting when it sold for $450 million.