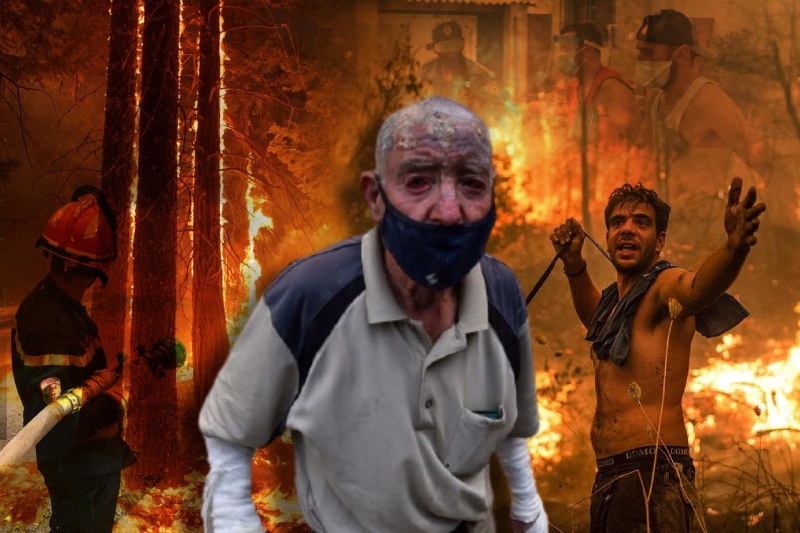 algeria wildfire
Algeria wildfires: climate crisis leads to dozens killed in blazing forests
At least 42 people including 25 soldiers, have died in wildfires that went off east of the capital of Algeria, Algiers. The unfortunate news of casualties was shared by Prime Minister Ayman Benabderrahmane. PM told the state television that government has called out for help from international community along with talks with private sectors and partners to hire jets for extinguishing blazing wildfires.
Wildfires in Kabyle region
Series of fires were triggered on Monday in Kabyle region along with several others. Army was sent in to help evacuate citizens. Rampant fires through forests killed cattle, wildlife and destroyed olive trees.
Kabyle region is located 100 km east of Algiers, with many inaccessible and difficult to access villages. Limited water in the region makes it even more difficult to control the fires. No water dumping planes is another limitation that led to some villagers take matter in their own hands and try to extinguish the flames using tools, buckets and branches.
Kamel Beldjoud, the interior minister, went to Kabyle on Tuesday to assess the situation and blamed arsonists of triggering the fires. "Only criminal hands can be behind the simultaneous outbreak of about 50 fires across several localities," he said.
Related Posts
Northern Algeria region too has many actives fires. Algerian radio broadcasted statement by Civil Protection Authority that said seven people have died. On Monday night, authority recorded 41 blazes in 18 wilayas, or regions, with 21 of those burning around Tizi Ouzou, the Kabyle capital.
President of Algeria, Abdelmadjid Tebboune tweeted, "It is with great sadness that I have learned of the martyrdom of 25 soldiers after they were successful in rescuing around 100 citizens from the flames in the mountains of Bejaiea and Tizi Ouzou."
Fatima Aoudia living in the Kabyle mountain village of Ait Saada said, "We were afraid. The entire hill was transformed into a giant blaze." She compared the catastrophic scene to that of bombings by French troops during Algeria's independence war that ended in 1962.
Climate experts say that it is no doubt that the current events of wildfires, floods, storms, droughts and heatwaves are due to climate change caused by coal, oil and natural gas burning. Similar heatwaves triggering wildfires are being witnessed in US, Greece, Cyprus, Turkey and Siberia. Reports are also that smoke from Siberian fires are reaching the North Pole, indicating a looming disaster.