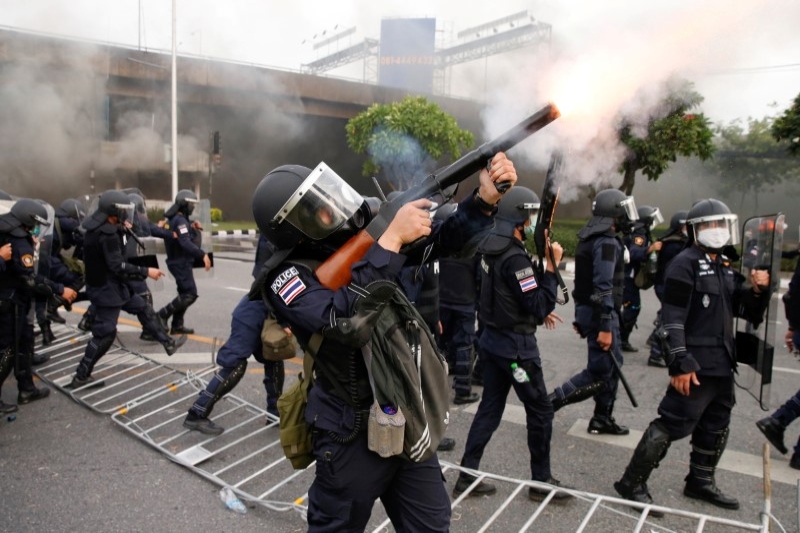 thai police
Thai police say use of force unavoidable as protesters plan new rally
Police, on Tuesday, fired water cannons, pellets and tear gas at protesters in Bangkok as hundreds rallied against the government's handling of the coronavirus pandemic and for democratic reforms.
Demonstrators mocked a ban on public gatherings as Thailand tries to press its worst virus outbreak so far – with new cases sailing about the 20,000 mark daily.
The lazy start to the coronavirus vaccination programme and economic pain from restrictions and business closures has piled pressure on Prime Minister Prayut Chan-O-Cha's government.
Prayuth has been under fire for a chaotic vaccination campaign and failure to suppress Thailand's worst COVID-19 wave yet, which has accounted for the country's more than 788,000 cases and 6,700 deaths.
Hundreds of protesters made their way through Bangkok streets on motorbikes and in cars.
Related Posts
Police maintained that their use of force was a necessary public safety measure and said 48 people were arrested upon charges ranging from arson and assault to breaking coronavirus rules that ban public gatherings.
"Police are not our enemies. Our actual enemy is the government," one protester told the rally.
The youth-led protest movement wants to topple former junta leader Prayuth, accusing him of rigging Thailand's political system to keep himself in charge, which he denies.
Though many core leaders remain in detention, the movement has speeded up since the coronavirus situation deteriorated.
In Tuesday protests, police said nine officers were injured, one by a gunshot to the leg. The others were hurt by rocks, firecrackers, and shrapnels from homemade bombs.
About two police traffic boxes were also set ablaze and other public property damaged, police said.
"Police decided to use water cannon, tear gas, and rubber bullets because we considered that if we don't, there certainly will be more damage," Pakapong Pongpetra – Bangkok police chief – told a news conference.