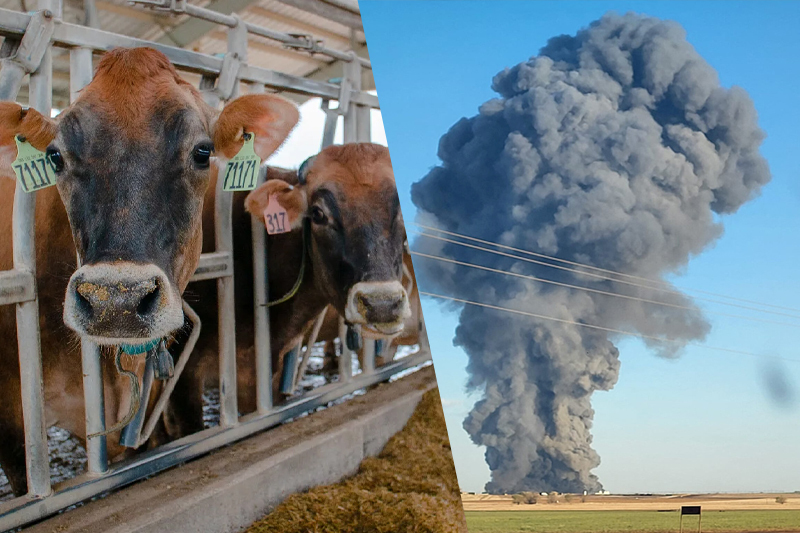 18,000 cows worth $36 million killed in massive explosion at Texas dairy farm
18,000 cows worth $36 million killed in massive explosion at Texas dairy farm
Roughly 18,000 cows were killed earlier this week in a devastating blast at South Fork Dairy near the town of Dimmitt in Texas, with one person sustaining serious injuries and now in critical condition, local authorities informed.
Castro County Sheriff's Office said they had received a report at about 19:21 local time on Monday. Photos shared by the Sheriff's Office showed a massive plume of black smoke rising from the ground.
Speaking to local news outlet KFDA, Sheriff Sal Rivera said investigators believed the blaze potentially started when a machinery in the facility referred to as a "honey badger" got overheated and ignited methane gas.
Scores of cows were killed after the fire proliferated to an area in which the animals were held before being taken to a milking area and subsequently into a holding pen, he informed, adding while some survived, some are "probably injured to the point where they'll have to be destroyed."
Keep Reading
When police and emergency personnel arrived at the scene, a person was found trapped and had to be rescued and rushed to the hospital in critical condition.
While the exact number of cows killed in the incident is still unclear, if confirmed, a death toll of 18,000 would be the deadliest barn fire involving cattle since the Washington DC-based Animal Welfare Institute started keeping statistics in 2013, it said.
Allie Granger, policy associate for AWI's farm animal programme, said: "It's hard to imagine anything worse than being burned alive," highlighting the need for farms to "adopt common sense fire safety measures."
According to the organisation, barn fires have killed nearly 6.5 million farm animals since 2013, including roughly 7,300 cows and a whopping 6 million chickens. Blazes between 2018 and 2021 have killed nearly 3 million farm animals, including 1.76 million chickens in the six largest fires over the same period.