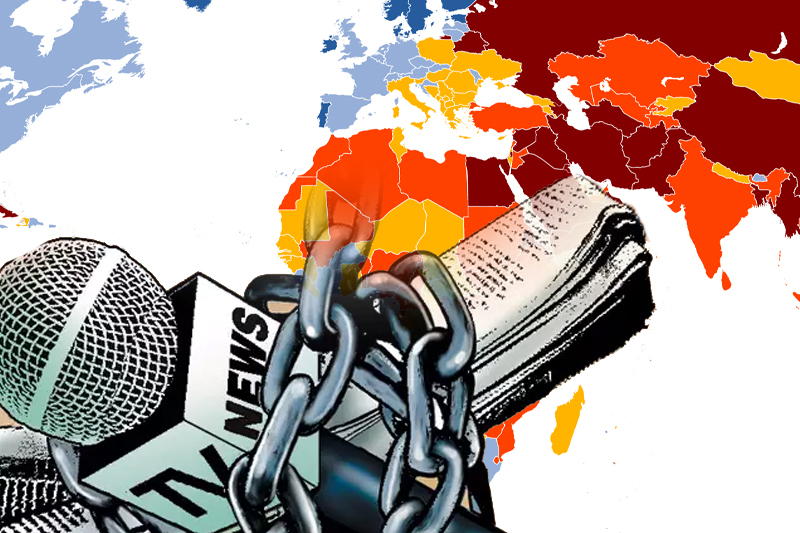 World Press Freedom Index: Disinformation, propaganda, AI threatening journalism
World Press Freedom Index: Disinformation, propaganda, AI threatening journalism
The World Press Freedom Index raised concerns on Wednesday over the appalling health of media freedom in a record number of countries, warning propaganda, disinformation and Artificial Intelligence (AI) were posing increasing threats to journalism.
Wednesday marked World Press Freedom Day, which was created to remind governments across the globe of their duty to protect freedom of expression. According to the report, an unprecedented 31 countries were in a "very serious situation", up from 21 just a couple of years ago.
The list, released by the advocacy group Reporters Without Borders (RSF), blamed "massive disinformation or propaganda campaigns" and increased aggressiveness from autocratic governments and even some democratic for the record slide seen on the report this year.
The survey assesses the health of the media in 180 countries and territories, checking the ability of journalists to publish news without interference and threats. According to the UN, 85% of people now live in countries where press freedom has deteriorated in the last five years.
Keep Reading
The report also highlighted the impact of AI on the media world, saying such tools were digesting content and bringing it out in the form of syntheses that go against the principles of thoroughness and reliability.
Russia, whose scores already dropped last year following the brutal invasion of Ukraine, dropped another nine places this year as state media reads the Kremlin line and opposition outlets are driven into exile.
Moreover, in the first arrest of a US journalist in Russia on espionage charges since the end of the cold war, Moscow detained the Wall Street Journal reporter Evan Gershkovich last month.
Meanwhile, India, Turkey, and Tajikistan saw plummeting scores this year, dropping from being in a "problematic situation" into the lowest category. Some of the biggest falls on the list were seen in Africa, with Senegal dropping 31 places and Tunisia, 27.
While the Middle East is the most dangerous region for journalists in the world, the Americas is no longer in the green zone on the map. Meanwhile, Nordic countries have long been topping the RSF rankings. This year as well, Norway stayed in the first place. But Ireland, a non-Nordic country, was ranked second. The UK was listed at 26 and the Netherlands returned to the top 10.