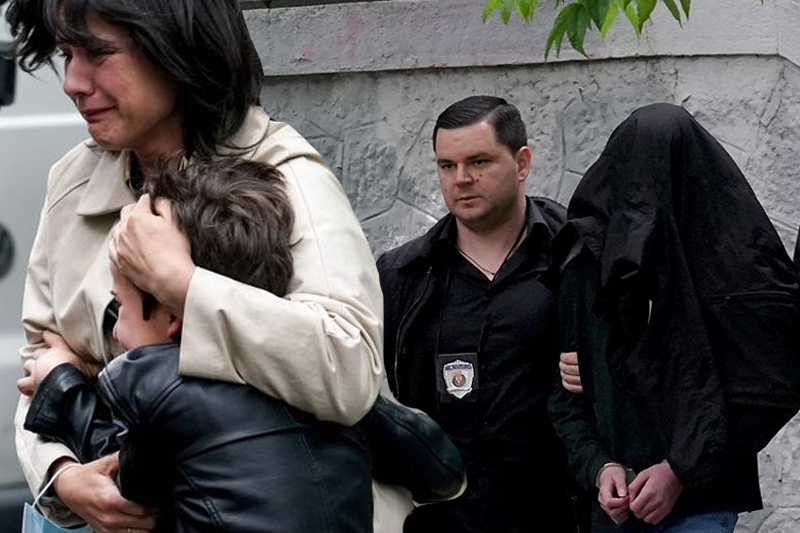 Teen made 'kill list' for Serbia school attack
Teen made 'kill list' for Serbia school attack
A 13-year-old boy was arrested Wednesday following a deadly shooting at the Vladislav Ribnikar elementary school in Belgrade, Serbia. Police say the teen, who killed a security guard and eight fellow students, planned the attack a month in advance and had a "kill list".
Another six students and a teacher also sustained injuries of varying severities in the incident. While a boy who was shot in the chest and neck is reported to have suffered the worst injuries, a girl with a head injury was in critical condition.
Another girl was shot in the abdomen and is said to be currently stable, while three other boys were hit in the legs. The teacher injured in the incident was said to be undergoing an operation and the health minister said her life was at risk.
The motive behind the shooting is still being probed. Officers in bulletproof vests and helmets sealed off the area following the morning attack. Meanwhile, a national three-day mourning period starting on Friday has been declared.
Keep Reading
The shooter allegedly used his father's guns, both of which carried legal permits. He is also reported to have accompanied his father to a shooting range more than once. His father and mother have since been detained.
Under current laws in Serbia, the suspect – being under 14 – cannot be held criminally responsible. President Aleksandar Vucic said the boy would be sent to a psychiatric clinic. He has also proposed several reforms, such as tightening of rules around shooting ranges.
Owing to very strict gun laws, mass shootings are comparatively rare in the country. But gun ownership in Serbia is still among the highest in Europe. It was estimated in 2019 that there are 39.1 firearms per 100 people here, just behind the US and Montenegro which rank in the top two.
The western Balkans are flooded with thousands of illegal weapons following serious conflicts in the 1990s.