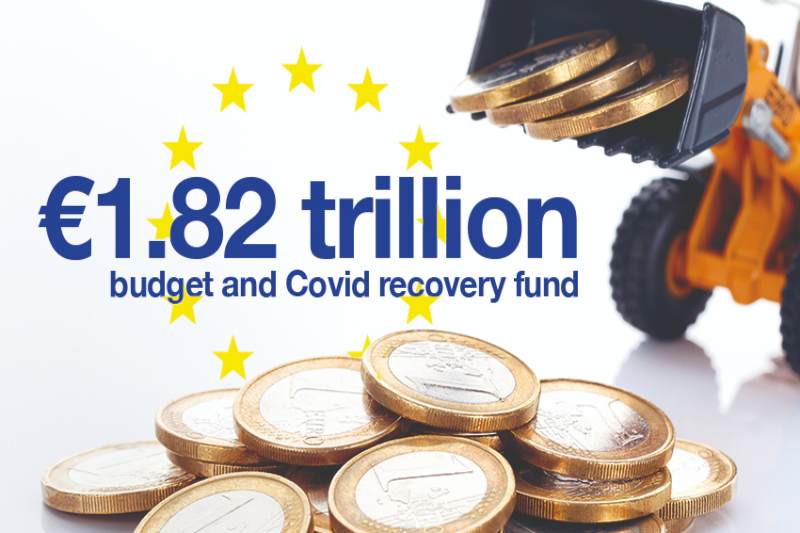 With deadlock resolved, bloc breaks the stalemate with EU budget and Covid-recovery fund
Last updated on December 14th, 2020 at 06:04 am
Covid-recovery fund: European Union had chalked out a budget and Covid-19 recovery fund for the bloc as €1.8tn, but the deal had faced a deadlock after Poland and Hungary had threatened to veto the budget. The two nations had warned to veto over clause that tied the decided the EU budget with rule of law adherence. The deal has now been struck right after EU leaders reached a deal with Poland and Hungary. 
The unprecedented seven year budget of €1.8tn along with the coronavirus pandemic is now unblocked of the raised objections regarding payments and their link with maintaining rule of law. Hungary and Poland, the multi-annual financial framework, or the pandemic recovery fund, known as Next Generation EU. Post months of tensions, the compromise tabled by Berlin was accepted by Hungary's and Poland's prime ministers, Viktor Orbán and Mateusz Morawiecki, respectively, during a summit in Brussels.
Charles Michel, European Council President tweeted, "Now we can start with the implementation and build back our economies. Our landmark recovery package will drive forward our green and digital transitions."
Poland and Hungary had said that a "rule of law" condition on funds distribution which is designed to block corruption, was legally unclear and vague and could come back to bite Warsaw and Budapest on the back as a punishment over recent rows and differences ranging from issues like migration to laws regarding treatment of LGBTQI+ communities. The plan was finally backed by the two countries after addition of a text assuring that conditions would only be applicable to future spending was added.
Furthermore, the tool legality will be ruled by the European court of justice, if challenged. The EU's supreme court will place its judgement before commission publishes guidelines regarding triggering mechanism. This will delay clause implementation beyond 2022 – the year when Orban is due for national elections.
The bloc's remaining 25 member states had warned Poland and Hungary of going ahead with recovery fund agreement if they continued to block it. Many countries, including Sweden and Netherlands had insisted on keeping the clause conditions as such, arguing that they could not and should not ignore poor governance anymore.
The EU had agreed in July on the €1.1tn budget for 2021-2027, and further €750bn as coronavirus stimulus fund. But the package required a unanimous support by all EU bloc members.