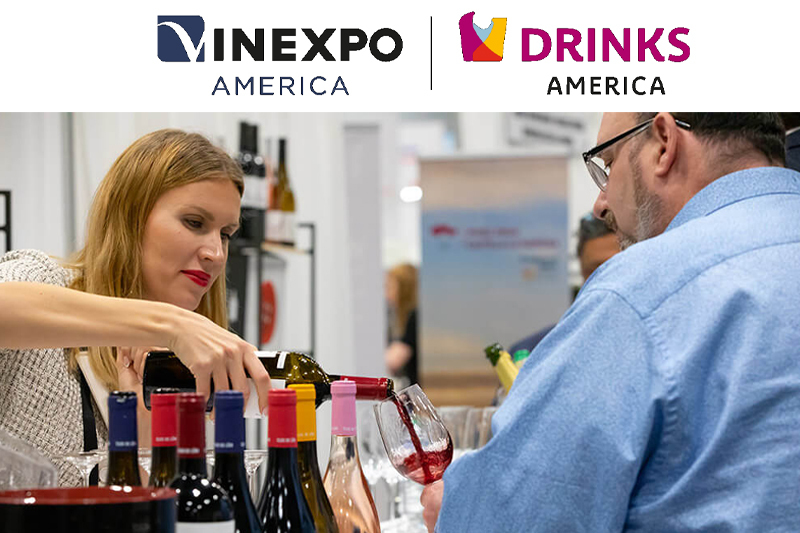 Vinexpo Drinks America visits New York for its second installment
Vinexpo Drinks America visits New York for its second installment
The second edition of Vinexpo America/Drinks America will take place in New York in March. This event will bring together various segments of the beverage alcohol business to network and create relationships.
Vinexpo America and Drinks America, which are being held simultaneously on March 8 and 9, will be held in the Jacob K. Javits Convention Center in Manhattan, New York (445 11th Ave, corner of 11th and 38th). These events are being organised by Diversified Communications and Vinexposium.
The concurrent events, held in the brand-new exhibit Hall 3, will feature a diverse array of spirits, sake, and wine for a mostly North American audience. This will be Vinexpo America | Beverages America's second iteration; the first, Vinexpo New York, was held from 2018 to 2020. The exhibition was relaunched as Vinexpo America last year, held in collaboration with Drinks America.
Beckie Kier, group event director at Diversified Communications (the major worldwide media organisation behind the event), responds when asked about the effectiveness of the rebranding by saying that it allowed the exhibition's horizons to be expanded.
Keep Reading
It was thought that the Vinexpo New York event catered exclusively to the New York market. Rebranding as Vinexpo America and the introduction of Drinks America resulted in co-located events that were positioned to reach the North American market for wine, spirits, beer, and other types of beverage alcohol.
"The redesign has attracted new clients and new regions, such as India," continues Kier. Compared to past years, Business France will return with more co-exhibitors from eight different regions and a greater space on the exhibit floor.
Vinexpo America | Beverages America's 2022 premiere was highly regarded as a triumph, especially since the epidemic had stopped traditional trade shows.
According to Kier, after limits were loosened, "the pent-up yearning for in-person contacts has been evident. We've heard from so many guests and exhibitors that spending time together was energising and helpful for reaffirming connections and expanding networks."
Also Read:- Abrahamic Family House: UAE's commitment to peaceful co-existence and harmony