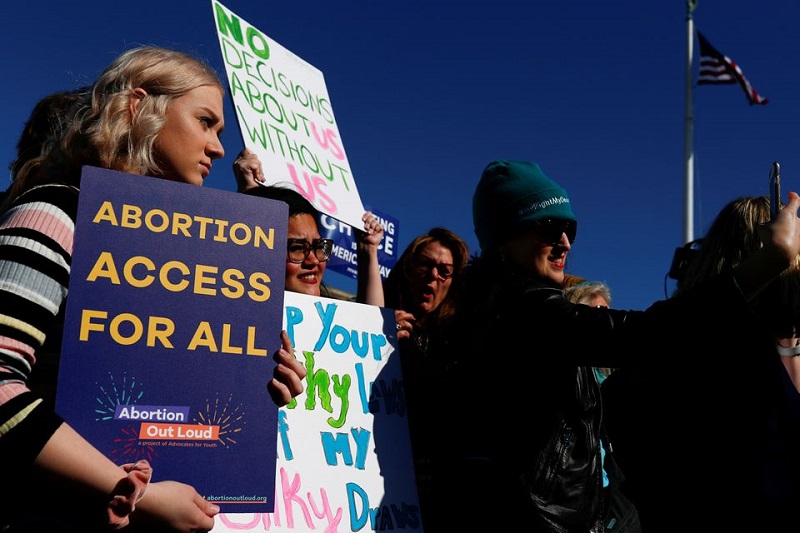 us court set to invalidate law that legalizes abortion
US Court Set To Invalidate Law That Legalizes Abortion
In recent months, states have pushed to tighten limitations on reproductive rights in the United States.
Right-wing Republicans have started an offensive on abortion, with Liberals, led by Vice President Joe Biden, battling back to defend abortion access.
Also Read: In Historic Senate Vote Argentina Legalizes Abortion
Leaked Draft On Abortion Rights
According to US media reports on Monday, the Supreme Court of the United States is expected to knock down the country's right to abortion, citing a leaked draft of a majority ruling that would deal a devastating blow to women's rights.
According to AFP, the draft, acquired by Politico, was prepared by Justice Samuel Alito and shared throughout the conservative-dominated court. It's unclear whether the draft is the court's final decision on the subject.
The draft opinion describes Roe v Wade, the historic 1973 decision that established the right to abortion, as "egregiously erroneous from the start."
Opinion of The Court
According to the news outlet, the paper was the "1st Draft" of the "Opinion of the Court" in Dobbs v. Jackson Women's Health Organization, a case challenging Mississippi's restriction on abortion after 15 weeks.
The Supreme Court has yet to rule on the case, as well as opinions — and even the votes of justices — have been known to shift throughout the drafting process.
The court is likely to make a decision on the matter before the end of its term, which is projected to be in late June or initial days of July.
Also Read: Ecuador legislature stamps rules for abortion in cases of rape
The draft ruling effectively declares that there is no legal rights to abortion procedures, allowing individual governments to limit or outright prohibit the procedure.
Unfair Burdens On Citizens
Even before the court's decision, a legislative drive to restrict abortion is underway in many Republican-led states, the most recent of which is Oklahoma.
Low-income women, according to critics of the measures, will bear an unfair burden of the new restrictions.