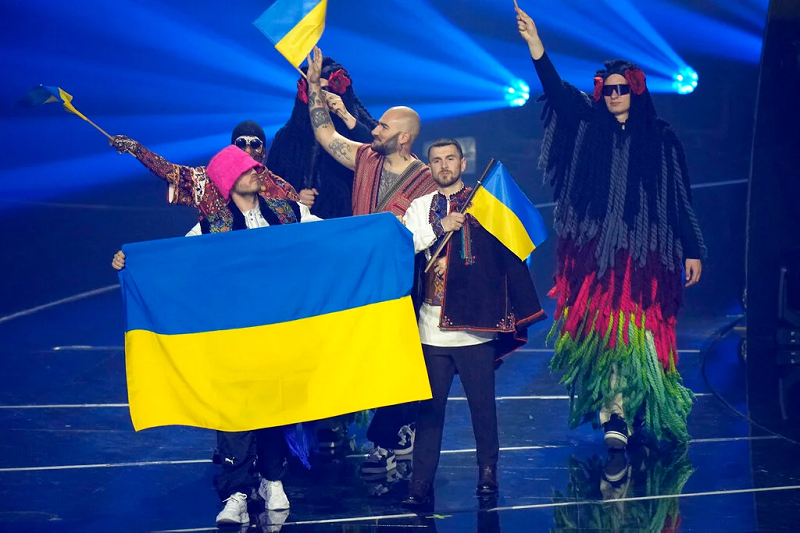 ukrainian kalush orchestra win in 2022 eurovision brings back hope to zelenskiy
Ukrainian Kalush Orchestra Win In 2022 Eurovision Brings Back Hope To Zelenskiy
Despite moroseness and sadness enveloping families and streets of Ukraine, there was something to cheer about. It was victory song literally that won the hearts at the 2022 Eurovision song contest. The Ukrainian Kalush Orchestra has won the top spot making the country and the Ukraine's president, Volodymyr Zelenskyy proud.
Also Read: All you need to know about 5 top French unicorns
In a formal statement showing his joy, he said, that he hoped next year's final would take place in the besieged port city of Mariupol, which has endured some of the most merciless onslaughts of the Russian invasion. The man who had been nominated for a Nobel Prize, Zelenskiy further added, "Our courage impresses the world, our music conquers Europe! Next year Ukraine will host Eurovision!"
The entry to the contest did not have the intends to garner the kind of support they did. But the Kalush Orchestra's entry made quite an impression. Stefania – a rap-folk hybrid originally was intended to be a tribute to the mother of frontman Oleh.
Also Read: 5 Most Richest European Countries As Per Their GDP
But lyrics of the song gave away to the feelings resonating with one and all Ukrainians who had lost one or the other in the ongoing Ukrainian war. As the song's lyrics, which include the lines "I'll always find my way home, even if all roads are destroyed", found new resonance, the group rededicated it to all Ukraine's mothers.
Many felt a surge of hope from Stefania's song. In a basement north of Kyiv, a group of soldiers watching the event also dared hope that next year's final would be in Mariupol. Many are tired of the fighting that has been continuing for three months now.  The need for celebration and hope could be seen flowing into the country in some other ways too.
Also Read: How Much Does It Cost To Visit Turkey?
The track's success will also live on in the name of a train that runs between Kyiv and Ivano-Frankivsk. So, the head of the railway service has already announced how the number 43 train would be renamed the Stefania Express, and that stations in Kyiv, Kalush and Ivano-Frankivsk would play the song when the train rolled in.Volodymyr Zelenskiy determined to host the next Eurovision Mariupol Ukraine