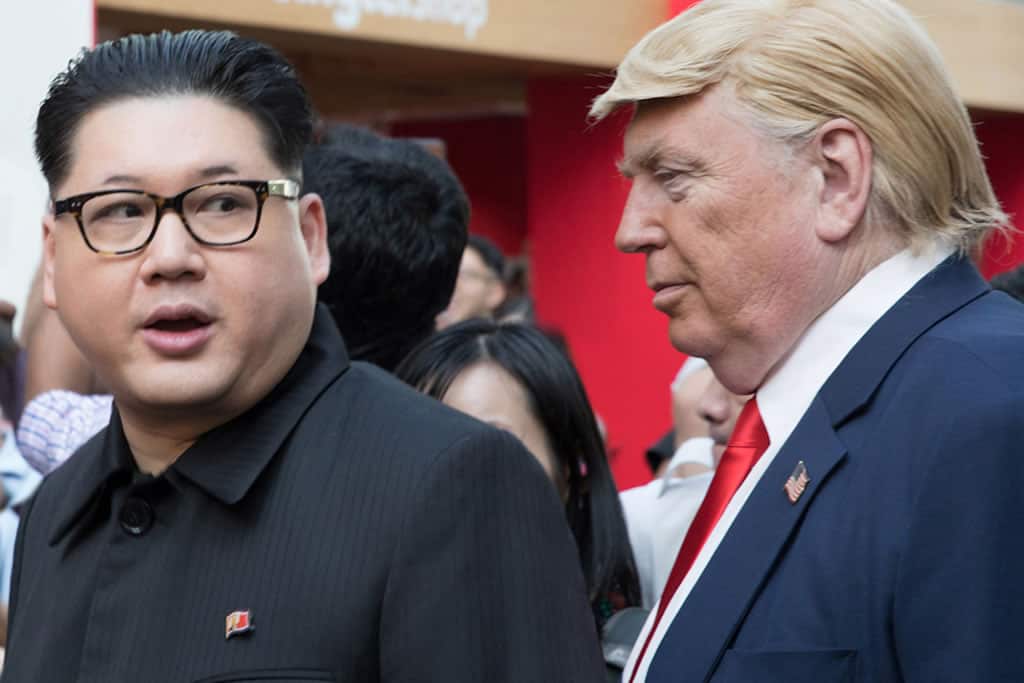 Trump and Kim's nuclear relationship of friendship, love and distrust
The world is very well aware of US President Donald Trump and North Korean leader Kim Jong-Un's love-hate relationship. Well things are about to get more interesting as the Washington Post journalist Bob Woodward is about to release his new book, Rage. Rage is going to put out details of this tumultuous relationship, snippets of which have already been shared by Trump in the past. It was in 2018, after the first sumit denuclearisation between the two leaders, that US President disclosed their budding relationship. Trump said "We fell in love." He added "No really. He wrote me beautiful letters. They were great letters. And then we fell in love."
The first sumit was hailed successful and world was about to become a happy and peaceful place that second summit came a year later and things got rough since then. Woodward through his book is going to let us peep into about 25 of Trump-Kim letters and help us with understanding what could have pushed this new eternal friendship back into eternal enmity.
Book might have time to come out but several US media outlets have already built the hype by publishing excerpts of the personal letters exchanged between the two world leaders over the last two years.
In their letters, it appeared that both sang praises for each other and appreciated the other person's greatness. In the letters North Korean ruler loaded Trump with extensive praise, repeatedly addressing him as "Your Excellency" and hailed their "deep and special friendship," even when US-North Korea nuclear talks started to tear apart.
"Even now I cannot forget that moment of history when I firmly held Your Excellency's hand at the beautiful and sacred location as the whole world watched," Kim told Trump after their first meeting in Singapore in June 2018. It got revealed after the US-based news organisation CNN published on of two Kim letters.
According to CNN, after their second summit in Vietnam, which did not conclude very well, Kim told Trump "every minute we shared 103 days ago in Hanoi was also a moment of glory that remains a precious memory,"
Trump also reverted in the similar tone. After their Singapore meeting, Trump described Kim as "far beyond smart," according to the Post. The paper said Trump boasted to Woodward that Kim "tells me everything," including sharing extensive details of how he killed his uncle, Jang Song Thaek, who was executed in late 2013 for treason. In an interview, Trump gave to VOA, he said Kim was "smart, loves his people, [and] he loves his country."
"It's interesting to see how you can see Kim's personality refracted through these letters," said Jung Pak, a former CIA analyst who now works at the Washington-based Brookings Institution.
"Surrounded by sycophants his entire life and as an observer and student of excessive displays of admiration that enveloped his father and grandfather, Kim Jong Un almost certainly understands how to weaponize praise and prey on one's insecurities and desire for greatness," said Pak, who recently wrote the book Becoming Kim Jong Un.   Some analyst believe that release of these private letters might impact the ties between both the countries. While Lee Sang-sin of the Korean Institute for National Unification said, "It won't affect Kim Jong Un's attitude that much. Kim understood the possibility of leaking."
Also Read:- Nord Stream 2 gas pipeline project: How likely it is that Germany will withdraw from the Russian pipeline