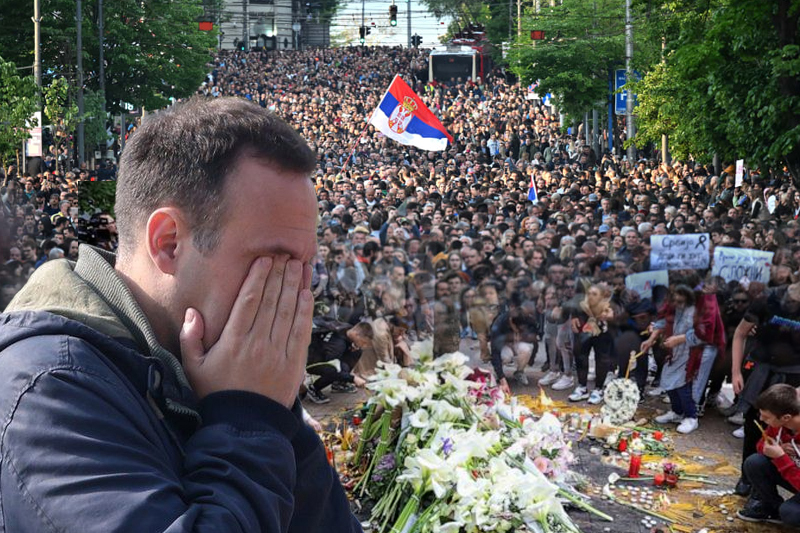 Tens of thousands join protests as rare mass shootings rock Serbia
Tens of thousands join protests as rare mass shootings rock Serbia
Scores of people in Serbia have joined demonstrations against gun violence in the capital, Belgrade, and another city after a couple of deadly mass shootings hit the nation last week.
17 people lost their lives in the shootings on Wednesday and Thursday, including eight children in an elementary school.
The demonstrators called for top government officials to step down, adding newspapers and TV stations they say promote violence should close doors.
However, President Aleksandar Vucic condemned the protests, saying the opposition should not capitalise on a tragedy to address their own interests.
"Whether it will be a reshuffle of the government or an election, we shall see," he said on TV. The next parliamentary elections in Serbia are set to take place in 2026.
Keep Reading
As schools in Belgrade restarted classes on Monday, police were stationed near all of the institutions. The gov't is also planning to recruit more officers to solidify safety near schools.
Thousands of demonstrators also took to the streets in the northern city of Novi Sad, where people threw flowers into the Danube River which flows to the capital.
The people called for the interior minister and the head of Serbia's intelligence agency to step down. Education Minister Branko Ruzic resigned Sunday, citing the recent school massacre.
Mass shootings are quite rare in the country, owing to strict gun control laws. But Serbia has the highest rates of gun ownership in Europe and the third highest in the world.
According to a 2018 survey, roughly 39 out of a hundred people in the country own guns.
In the week of the gun violence, Prez Vucic has initiated a one-month amnesty for surrendering illegal weapons, with Serbs able to drop off their guns to police with no questions asked.
Around 1,500 guns were surrendered on the first day of the amnesty, according to Serbian police.