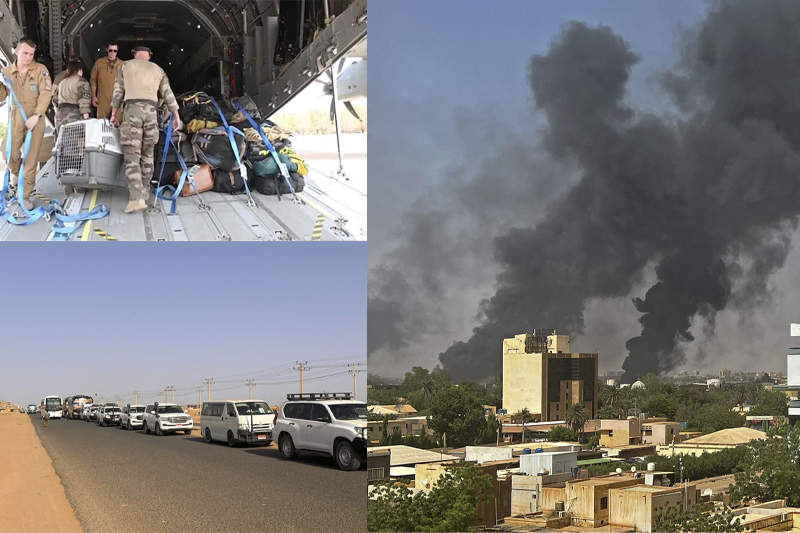 Sudan Fighting: Diplomats and foreign nationals evacuated from Khartoum
Sudan Fighting: Diplomats and foreign nationals evacuated from Khartoum
A number of countries have evacuated diplomats and foreign nationals from Sudan's capital city of Khartoum as deadly violence continues to rage across the country. At the heart of the conflict is an enormous power struggle between the regular army and a powerful paramilitary group, Rapid Support Forces (RSF).
The clashes erupted Saturday, April 15. Bombing and shooting in Khartoum and elsewhere as well has cut power and safe access to food and running water for much of the population. Several ceasefires seemingly agreed by both sides didn't hold long, including a 72-hour truce to mark the Muslim holiday of Eid al-Fitr.
According to the World Health Organisation, more than 410 people have already been killed in the conflict, with thousands of others injured. But the actual death toll is likely to be much higher as people are struggling to get healthcare and scores of hospitals have gone out of service. Meanwhile, the UN estimates up to 20,000 people have already fled to neighbouring Chad.
Keep Reading
Evacuations Organised
1. US authorities said they had airlifted dozens of people on Sunday morning in a "fast and clean" operation. The US embassy in Khartoum has now closed its doors temporarily and a tweet on its official feed said it wasn't safe enough for the government to get private US citizens out.
2. The British government also announced Sunday it had managed to airlift UK diplomats and their families out of Sudan in a mission called "complex and rapid". Foreign Minister James Cleverly said options to get the remaining British nationals out were limited.
3. Several other countries were carrying out evacuation operations on Sunday, including Canada, with Prime Minister Justin Trudeau saying the government had successfully evacuated its diplomatic staff from chaos-hit Sudan.
4. France's President Emmanuel Macron confirmed the arrival of a plane in Djibouti on the Horn of Africa. A small number of Dutch citizens were on the plane too, with the Netherlands hoping to evacuate more on Sunday evening.
5. While Germany's army said the first of three planes had left Sudan with 101 people onboard, Italy and Spain also evacuated citizens – with the Spanish mission getting citizens of Argentina, Portugal, Sudan, Mexico, Poland, Ireland, Colombia, and Venezuela out.