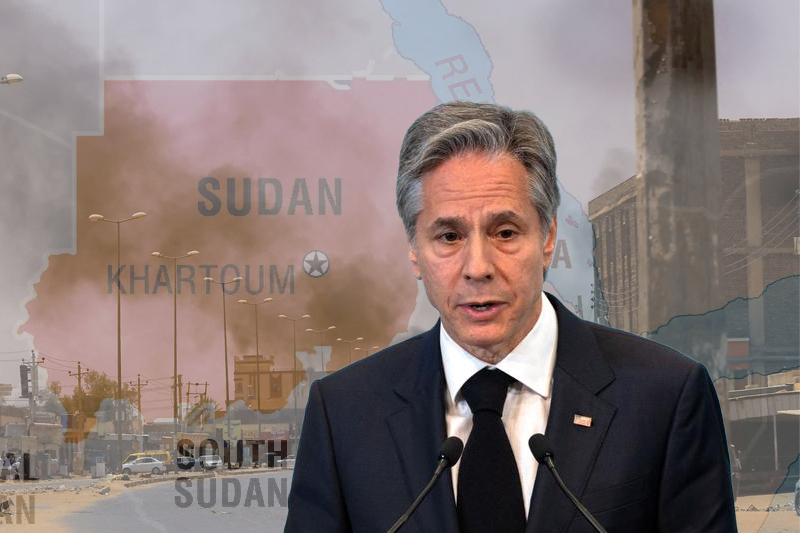 EU ambassador assaulted in Sudan, US diplomatic convoy fired upon
EU ambassador assaulted in Sudan, US diplomatic convoy fired upon
Calling the action reckless, irresponsible and unsafe, US Secretary of State Antony Blinken told reporters in Japan after G7 talks that a US diplomatic convoy came under fire in Sudan on Monday amid internal violence but nobody was hurt.
Earlier reports suggested the EU's ambassador in Sudan, Aidan O'Hara, was assaulted at his residence in the capital city of Khartoum. He was not "seriously hurt", Irish Foreign Minister Micheál Martin confirmed, calling the incident a serious "violation of obligations to protect diplomats".
The north-east African country has a history of instability. In recent days, it has been gripped by deadly conflicts between rival forces. According to the UN, around 185 people have been killed and over 1,800 injured to different severities.
Keep Reading
Sudan fell under military rule in 2019. Since then, two generals have been in charge – Abdel Fattah al-Burhan, the leader of the Sudanese Armed Forces (SAF) and Mohamed Hamdan Dagalo, Sudan's deputy leader and head of a notorious paramilitary group called the Rapid Support Forces (RSF).
At the heart of the recent fighting are also the two men. The conflict has compelled a number of civilians to shelter in their homes. Clouds of smoke were visible Monday above the capital's main airport, with images of fires and explosions flooding TV channels.
Even hospitals were shelled, doctors informed.
Better known as Hemedti, the deputy leader on Monday called on the international community to intervene. The regional Intergovernmental Authority on Development, or Igad, is expected to soon send the presidents of Djibouti, Kenya, and South Sudan to the country to help cease hostilities.
The BBC quoted Igad's executive secretary, Nuur Mohamud Sheekh, as saying there were some hints that progress could be made, adding "Both these leaders are agreeable to mediation."