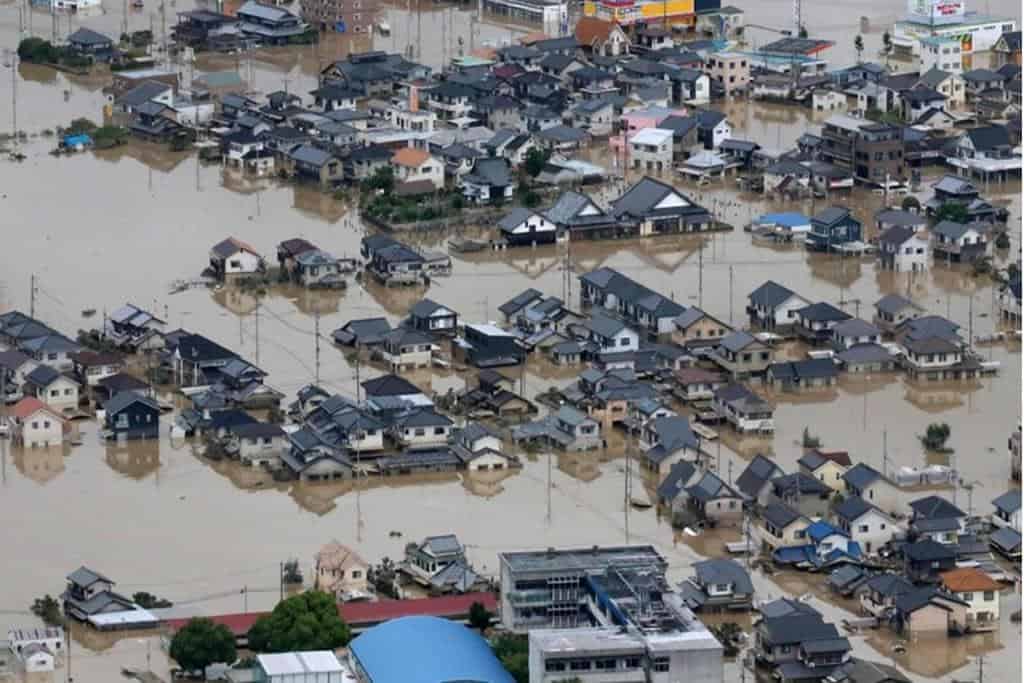 Rescue efforts are on as dozens feared dead in floods in Japan
Heavy rains in western Japan have led to intense flooding and landslides, cutting off communities and hampering rescue efforts.
As of Tuesday, at least 50 people are feared dead in floods and landslides in Japan's Kyushu island which has been witnessing record rains since Saturday. Even as Japan's Meteorological Agency issued its highest emergency warning with rains to continue until Thursday, over 40,000 personnel from police and fire departments, the coast guard and Self-Defense troops are conducting search and rescue operations.
The death toll is expected to rise with rescuers unable to reach several isolated or low lying areas. The rains have caused rivers to break banks, wash away roads and bridges, making rescue possible only by rafts or helicopter. In the particularly hard-hit areas, survivors spelt out the words "rice, water, SOS" on the ground, waving and calling for rescue and relief.
In a tragic incident, 14 people are feared dead in a nursing home for the elderly. Emergency services and locals managed to rescue 50 staff and residents who evacuated to the first floor but those in wheelchairs who were unable to reach higher ground couldn't be saved.
Non-compulsory evacuation orders have been issued to thousands of residents but these efforts are likely to be tricky amidst the pandemic. Japan has had close to 20,000 cases of the coronavirus with almost 1,000 dead. The fear of the virus has reduced capacity at evacuation shelters with people preferring to sleep in their cars rather than share the public space. In the shelters, families are being separated with partitions and evacuees are mandates to wear masks and frequently sanitise their hands.
The area is a tourist attraction which had already been suffering from the loss of business due to the pandemic. In 2018, this region witnessed devastating floods that killed more than 200 people.
Also Read:- International ramifications of US Big Tech's power