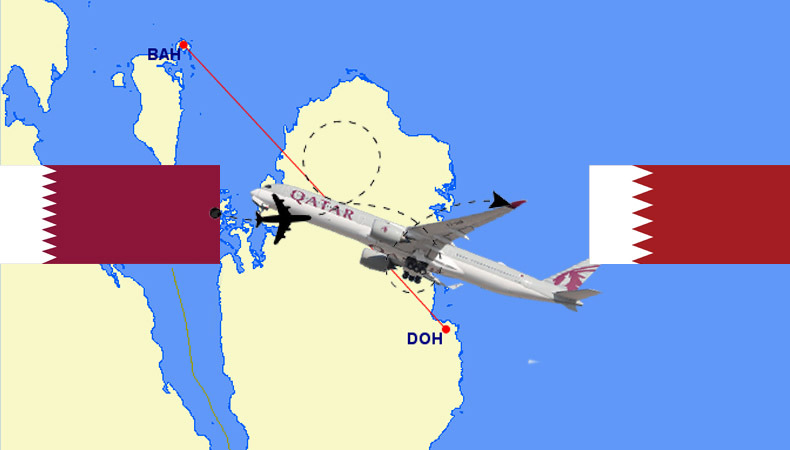 Qatar and Bahrain continue normalising ties, plan to resume flights on May 25
Qatar and Bahrain continue normalising ties, plan to resume flights on May 25
In another indication of thawing relations, Qatar and Bahrain have decided to resume flights between the two countries from May 25. Bahrain's Civil Aviation Affairs made an announcement on the move on Monday, the state news agency reported.
The resumption of flights between the two represents the brotherly relations between the two brotherly countries and helps achieve the shared aspirations of the leaderships as well as citizens of both nations, the state agency said.
Qatar and Bahrain announced a restoration of relations last month when their respective foreign delegates met at the headquarters of the Gulf Cooperation Council (GCC) General Secretariat in Riyadh, Saudi Arabia, on April 12.
Keep Reading
Bahrain, in addition to Egypt, Saudi Arabia, and the UAE, severed ties and imposed a blockade on Qatar in 2017 over claims it was maintaining close relations with Iran and supported hardline groups – allegations Doha has continued to strongly reject.
The four Arab countries had cut trade connections and prohibited Qatari planes and ships from using their airspace and waters. However, Egypt, Saudi Arabia, and the UAE started restoring these ties in 2021, although the Emirates and Qatar have yet to open their respective embassies.
The tensions between Bahrain and Qatar majorly revolved around the latter's ties with Iran and issues along their maritime border. Bahrain's crown prince and Qatar's emir held a phone call in January to discuss their differences – a move that indicated warming relations between the two.
The restoration of relations comes against a backdrop of several other efforts to resolve disputes in the region, including reviving ties between Saudi Arabia and Iran, and paving the way for Syria's return to the Arab League.