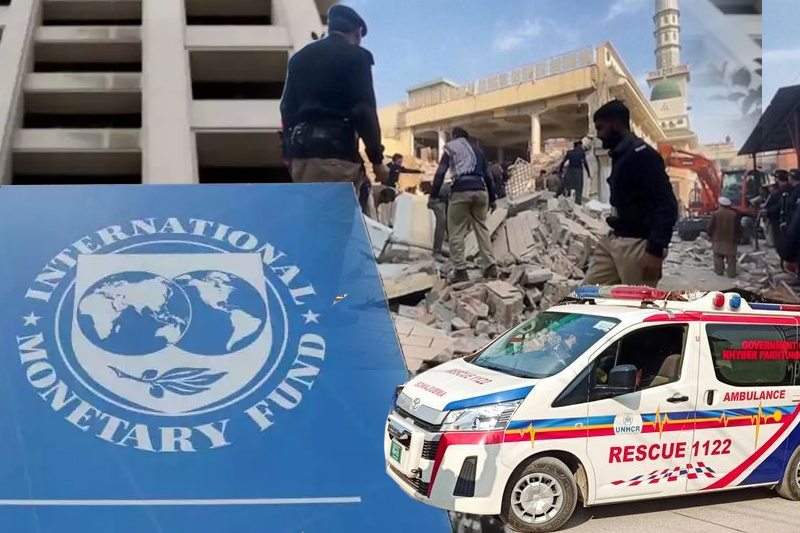 Police targeted in Peshawar blast that kills 59, IMF team arrives in Islamabad
Police targeted in Peshawar blast that kills 59, IMF team arrives in Islamabad
At least 59 people have been killed and 157 injured in a massive suicide bombing Monday that apparently targeted policemen praying in a mosque in Pakistan's northwestern city of Peshawar near the border with Afghanistan. The building is within the heavily secured police headquarters area.
The Pakistani Taliban, which last December targeted a police station leading to the deaths of 33 militants, has denied involvement after an initial claim by one of its commanders. Violence has been on the rise in the country since the group ended a truce in November.
According to Peshawar police chief Muhammad Ijaz Khan, between 300 and 400 police officers were in the area at the time of the explosion.
The blast took place during afternoon prayers around 1:30 pm local time. Videos circulating on social media show that half of a wall caved in.
Keep Reading
Prime Minister Shehbaz Sharif has condemned the attack, saying those behind the blast had "nothing to do with Islam". He visited the Lady Reading Hospital in Peshawar and met the injured victims. The PM has directed his party workers to donate blood to save lives, "especially the people with 'O-Negative' blood."
Hours after the deadly blast, at a facility full of the injured, BBC News reported, many were still wearing their police uniforms, some were covered in burns cream, and others had broken bones. While one man said he was rescued after being trapped under the debris for an hour, another said he still couldn't hear owing to the sound of the powerful explosion.
The attack took place at the start of an important week for the country's diplomacy. UAE President Mohamed bin Zayed Al Nahyan was due to visit the capital city of Islamabad yesterday, but the trip was postponed at the eleventh hour due to "bad weather".
A team from the International Monetary Fund arrived in Islamabad Tuesday as part of the process to unlock a bailout loan to offer the country some respite from its soaring financial crisis. If everything goes well, the IMF is expected to release $1.8 billion, which is still pending, Dawn reported.