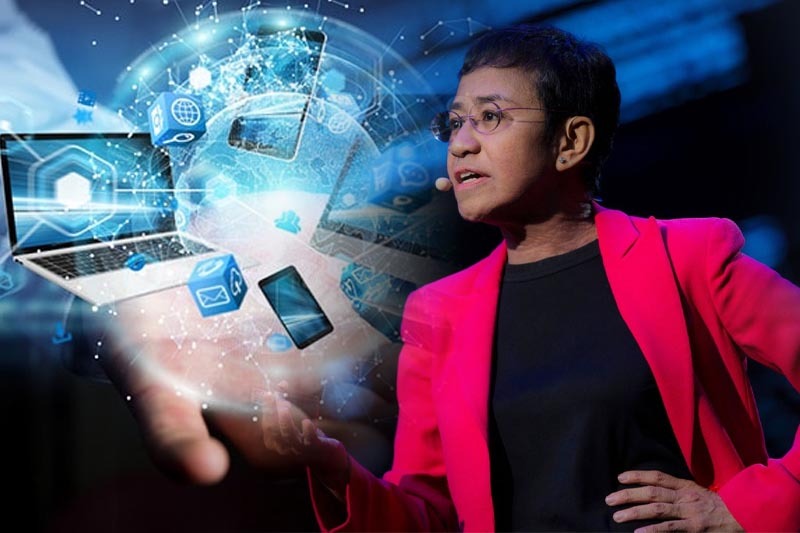 we must act now' ressa, muratov launch action plan vs big tech information crisis
Nobel laureates Ressa and Muratov battle Big Tech info disaster
Maria Ressa and Dmitry Muratov, who were both awarded the Nobel Peace Prize, have come up with a strategy to combat the information crisis, as well as the surveillance-for-profit business model that is used by large internet companies, and to "rebuild independent media."
On Friday, September 2, they presented this information at the Freedom of Expression Conference that was held in Oslo, Norway.
Ressa claimed in a tweet that the business methods of big tech companies, which "deliberately promote hate and lies for profit," pose an "existential threat to democracy and peace." Big tech companies include Facebook, Google, Twitter, and Amazon.
In their presentation, Ressa and Muratov claimed something to the effect that "right now, the enormous potential of technology to develop our societies has been hindered by the commercial model and design of the leading online platforms."
However, they said, "we remind all those in authority that true human development comes from leveraging technology to improve rights and freedoms for everyone, rather than sacrificing them for the wealth and power of a few," which was included in their statement.
Ressa stated in a tweet that "radical action is needed to detoxify the dominating online platforms and recover a democratic vision of the internet for the 21st century." Ressa was referring to the necessity to take "radical action" to "detoxify the leading online platforms."
She issued a plea for an end to the practice of internet platforms propagating false information and for increased funding for media as a means of combating authoritarianism.
The Nobel Peace Prize will be awarded to Ressa, the CEO of Rappler, and Muratov, the editor-in-chief of the Russian daily Novaya Gazeta Muratov, in 2021 "for their efforts to defend freedom of expression, which is a foundation for democracy and sustainable peace."
The Action Plan
The recipients of the Nobel Prize pointed out that the current information environment is driven by "opaque algorithms and recommender systems devised by technology businesses that track and target us."
"The sham that is our purported consent is the foundation of this surveillance-for-profit business model. But to force us to choose between permitting platforms and data brokers to gorge themselves on our personal data or being shut out from the benefits of the contemporary world is just not a choice at all," they argued.
They went on to say that "the massive apparatus of corporate surveillance not only violates our right to privacy but also makes it possible for our data to be used against us, so eroding our liberties and making it possible for discrimination."
According to Ressa and Muratov, Europe has begun to address the problem through the passage of the Digital Services and Digital Markets Acts; however, "these must be enforced in ways that compel platforms to de-risk their design, detox their algorithms, and give users real control," Ressa and Muratov said.
"Privacy and data rights, which have primarily been theoretical up to this point, need to be adequately enforced. And advertising must use their money and influence to defend their customers from a tech business that is actively harming people," they added. "And advertisers must use their money to protect their customers from a tech industry that is actively harming people."
According to Ressa and Muratov, international technology corporations have not prioritized their customers and have not provided them with equal protection.
"Companies must be legally compelled to systematically examine human rights concerns in every country they intend to expand in, ensuring that they are culturally and linguistically competent to the appropriate degree." They must also be compelled to bring their behind-closed-doors decisions on content filtering and algorithm adjustments into the light, and all special exemptions for individuals who have the most influence and reach must be eliminated, according to their statement.
"These decisions on safety, design, and product selection that impact billions of people cannot be delegated to companies to make." They went on to say that establishing norms of transparency and accountability was a vital first step toward reclaiming the internet for the benefit of the general population.
Ressa and Muratov also brought up the "forces" that have been unleashed by large tech platforms. These "forces" are "devastating independent media by swallowing up online advertising while simultaneously enabling a tech-fueled tsunami of lies and hate that drown out facts," according to Ressa and Muratov.
They stated that stopping tech platforms from amplifying false information will not be sufficient to help restore independent journalism. As evidence, they cited the statistic that "only 13% of the world's population can today access a free press."
"If we are to hold power to account and protect journalists, we require unparalleled investment in a truly independent media persevering in situ or working in exile that ensures its sustainability while incentivizing compliance with ethical norms in journalism. If we are to hold power to account and protect journalists," they said, "we need unparalleled investment in a truly independent media persevering in situ or working in exile."
They went on to say that "newsrooms in the 21st century need to also carve a new, separate route," acknowledging that in order to achieve justice and rights, newsrooms need to represent the variety of the communities that they serve. On the front lines of this war on truth, journalists are increasingly being assaulted, imprisoned, or killed; therefore, governments have a responsibility to protect the safety and independence of journalists.
A ten-point plan of action was offered by Ressa and Muratov to "create a world that puts human rights, dignity, and security first."
The action plan has received support from a total of over 90 professionals and civil society groups, in addition to nine additional Nobel laureates.
"We, as Nobel Laureates, deliver a unified message to people all across the world: collectively, we can put a stop to this corporate and technological attack on our lives and liberties, but we must act now." According to Ressa and Muratov, the time has come to put into action the solutions we now possess in order to reconstruct journalism and reclaim the technical architecture of global discussion for the benefit of all of mankind.
On August 31, current and former politicians from countries in Southeast Asia issued an appeal for governments, civil society, and the public sector to consider misinformation a primary regional and global concern.
Following the national elections that took place in the Philippines in May 2022, the ASEAN Parliamentarians for Human Rights (APHR) organization carried out a fact-finding visit in the country. The purpose of the mission was to demonstrate that disinformation poses a threat not only to electoral processes, but also to democracies in general and to national security.
Ferdinand Marcos Jr., son of the late ousted dictator Ferdinand Marcos, won the presidential election in May with a majority of the vote. This victory can be traced back to the "institutionalization" of disinformation through social media that was carried out by the previous president, Rodrigo Duterte.
As pro-Marcos propaganda flourished years before the Marcoses achieved their comeback in 2022 Malacanang, it was discovered that disinformation on social media was a key factor in influencing the outcome of the polls. This discovery led to the conclusion that social media was a key factor in influencing the polls' results.