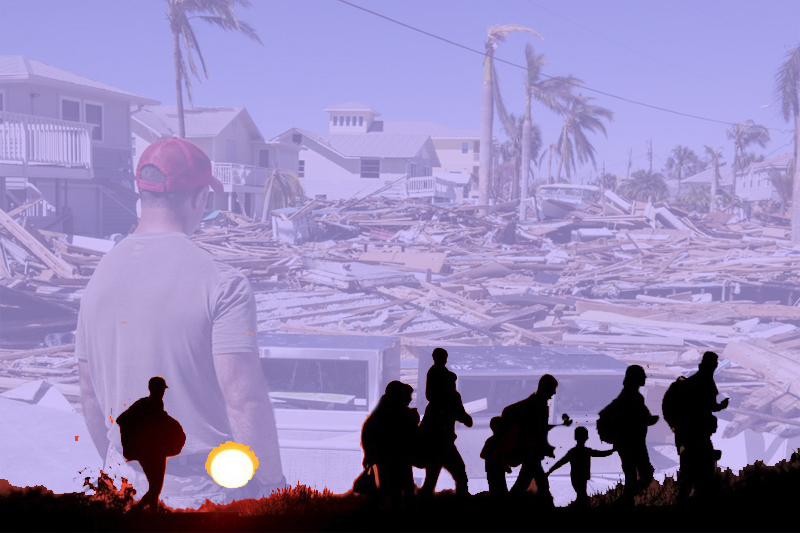 Natural disasters, caused by climate change, forced people to leave their homes in the US
Natural disasters, caused by climate change, forced people to leave their homes in the US
Natural disasters, boosted by climate change, forced an estimated 3.4 million people in the United States (U.S.) to leave their homes in 2022, according to Census Bureau data.
Most people in the US left their homes due to hurricanes. Many people were also uprooted by floods, fires and tornados. According to Census Bureau data, collected earlier this year, around 40% of people returned to their homes within a week. Nearly 16% have not returned home yet, and 12% have been evacuated for more than six months. Reportedly, people who never returned home experienced various problems, including a lack of housing, food, water, sanitation and child care.
The Census Bureau, officially the Bureau of the Census of the US, conducted the Household Pulse Survey from January 4 to January 16. The data is based on 68,504 responses.
Keep Reading
Michael Gerrard, director of the Sabin Center for Climate Change Law at Columbia University, reportedly said, "These numbers are very distressing." Gerrard further said, "They're only going to get worse in the coming years because climate change is making extreme weather events more frequent and more severe."
According to the United States Census Bureau, around 888,000 people were displaced in 2022 due to natural disasters. Some states in the US suffered far more than others. Louisiana, a southeastern U.S. state, had more than 368,000 people displaced.
The data also showed that Black and Hispanic residents in the US had more evacuation rates than white residents.
The National Oceanic and Atmospheric Administration, a scientific and regulatory agency within the United States Department of Commerce, said that 18 extreme weather events, boosted by climate change, caused at least $1 billion in damage. According to the data from the Internal Displacement Monitoring Center, part of the humanitarian organization The Norwegian Refugee Council, natural disasters displaced an average of 800,000 U.S. residents from 2008 to 2021.
Read More:- Turkish woman rescued from rubble a week after earthquake