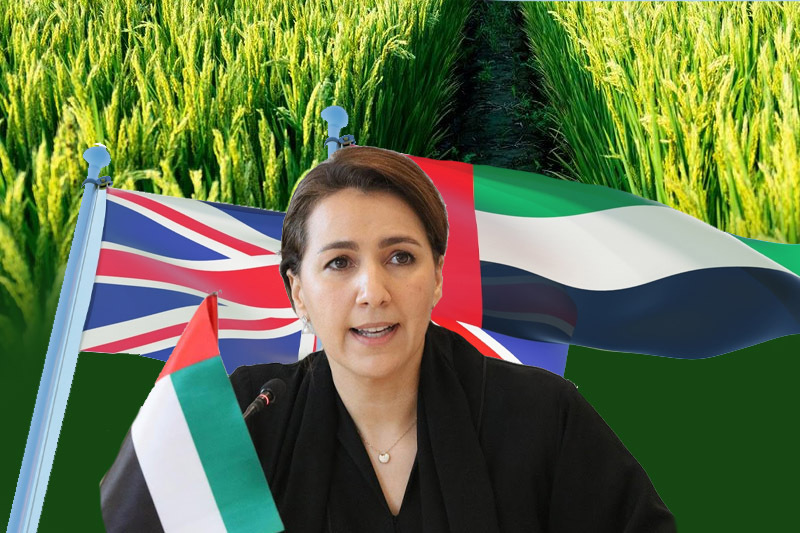 Mariam Almheiri announces UAE's participation in UK's Agriculture Breakthrough Initiative
Mariam Almheiri announces UAE's participation in UK's Agriculture Breakthrough Initiative
Her Excellency Mariam bint Mohammed Almheiri recently made an important announcement during the AIM for Climate Ministerial session of the AIM for Climate Summit in the US, officially revealing the UAE's participation in the UK-led Agriculture Breakthrough Initiative.
The initiative, first launched at the COP26 climate conference in Glasgow, aims to transform climate-resilient, sustainable agriculture into the most luring and widely-adopted option for farmers across the globe by the end of the decade.
Almheiri highlighted the importance of collaboration in addressing the climate emergency, adding both the summit and the UK-led initiative provide a forum for collective action and mutual progress, helping the world modernise and decarbonise while protecting food supplies.
She is heading the Ministry of Climate Change and Environment (MOCCAE) delegation at the AIM4C Summit, co-led by the UAE and the US.
Keep Reading
On the second day of the Summit, the minister highlighted the Emirates' progress in the agricultural sector since COP26 alongside prominent speakers from the World Bank and other organisations, at a Ministerial Meeting on the Agriculture Breakthrough.
The UAE Embassy in Washington organised a parallel Business Engagement roundtable for experts from the US food sector. Almheiri underscored the UAE agri-tech business opportunities and encouraged additional US investments into the Emirates during the roundtable.
She also emphasised the importance of improving sustainable technology-enabled domestic food supply and diversifying international food sources, while reiterating the UAE's 2051 vision of becoming a prominent hub in innovation-driven food security in the world.
The MOCCAE also participated in the High-Level Plenary "Breaking Barriers: Insights from Trailblazing Women in Science".
HE Mohammed Mousa Alameeri, Assistant Undersecretary for the Food Diversity Sector at the Ministry of Climate Change and Environment, highlighted the importance of women's leadership in enhancing climate initiatives and the UAE's progress in promoting gender equality, such as expanding maternity leave, introducing paternity leave, and offering equal pay for equal work.