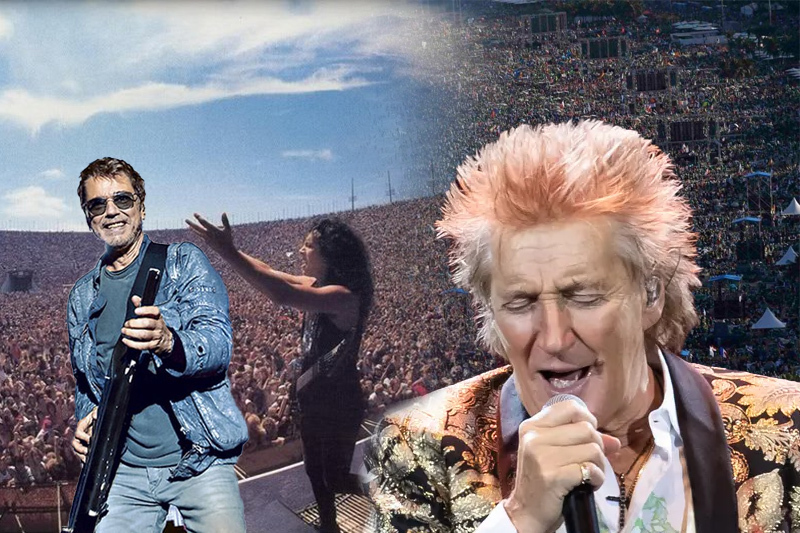 top 7 largest world concert attendance in history
Top 7 largest world concert attendance in history
As music is a universal language, concerts are one of the best methods to bring people together to appreciate it. The most attended concert in history attracted a record-breaking crowd thanks to their unforgettable and spectacular performances, which set them apart from earlier gatherings in terms of both scope and cultural impact.
Have you ever wondered where the biggest concert in history took place? Here is a list of artists who have played in front of enormous crowds, so you don't need to go any further.
1. Rod Stewart's Concert – 3.54 Million People
The music icon Rod Stewart currently holds the title of largest concert of all time after playing in front of 3.5 million spectators on Copacabana Beach on New Year's Eve, 1994.
2. Jean-Michel Jarre's Concert – 3.5 Million People
The largest concert of all time, Jean-Michel Jarre's celebration of Moscow's 850th anniversary in 1997 drew over 3.5 million attendees.
With four performances in front of crowds of over a million people apiece, Jean Michel Jarre is without a doubt the king of massive concerts. When he played in front of a million people in Paris in 1979, he set a world record for the biggest concert ever. Later, he accomplished two new world records.
3. Jorge Ben Jor's Concert – 3 Million People
A well-known musician from Brazil with the name of Jorge Ben Jor is Jorge Dulio Lima Menezes. Three million people attended one of the largest concerts in history on New Year's Eve 1993 in Rio de Janeiro's Copacabana Beach, where he played.
4. Bastille Day Concert – 2.5 Million People
An annual concert is conducted to remember the 18th-century French Revolution. The Bastille Day spectacular, however, was once more elevated by Jean-Michel Jarre, who also helped it become the fourth-largest concert in history. On July 14, 1990, about 2 million Parisians (and tourists) attended the free performance.
5. Love Parade – 1.6 Million People
There were reportedly 1.6 million partygoers at the Love Parade festival in Dortmund, Germany, in 2008, which is renowned for drawing sizable crowds. Thanks to the involvement of the top DJs in the world, the city was turned into the biggest free party Germany had ever seen.
Also Read : Love Parade founder's techno party in Berlin
6. Monsters of Rock – 1.6 Million People
Throughout history, there have been a number of sizable rock festivals, but none have ever been as sizable as the one-time Monsters of Rock festival in the Soviet Union. In 1991, 1.6 million rock enthusiasts travelled to Moscow to see Metallica, AC/DC, The Black Crowes, and numerous more acts.
7. The Rolling Stones – 1.5 Million People
The Rolling Stones' 2006 appearance at Rio de Janeiro's Copacabana Beach lived up to the tour's slogan, "A Bigger Bang." On a seven-story-high stage, in front of a throng of 1.5 million people, the rockers performed hits including Satisfaction and It's Only Rock & Roll.