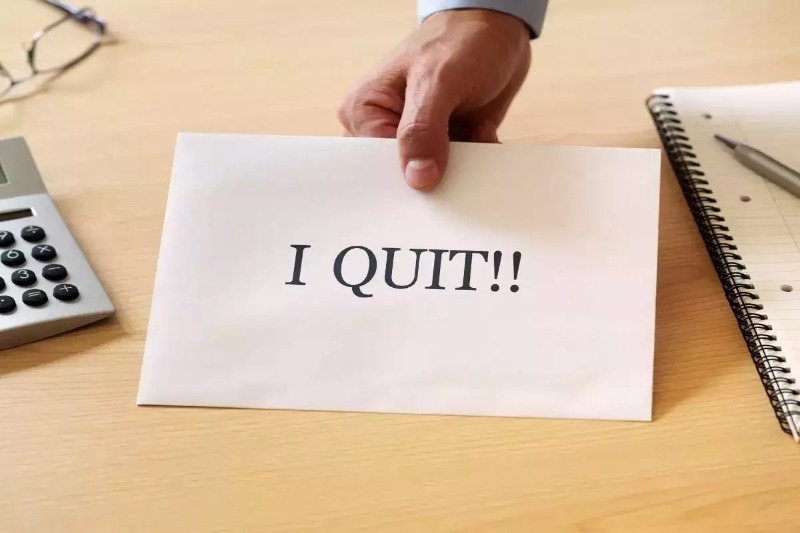 in your resignation letter and exit interview dont burn any bridges
In your resignation letter and exit interview, don't burn any bridges
Is everyone just giving up hope now that we're living in the COVID-19 era? Leaving one's employment was once a somber and forbidden subject to consider in private, but now it represents the zeitgeist of a generation that has had enough.
"Quit-Toks" are videos in which people document their actual resignation from their jobs. Beyoncé, in her most recent single "Break My Soul," offers tips on quitting your work and discovering who you really are. Officially, the Great Resignation has reached its pinnacle of cultural significance.
Resignation letters that are "so honest it hurts" are going viral on the Internet, and reading them can be both cathartic and admirable for their flippant attitude about the workplace.
However, many people experience emotional distress when faced with the prospect of resigning. This is generally due to guilt or fear of confrontation. Burning bridges with former coworkers and bosses is another risk of a messy leave that might limit one's opportunities both within and beyond their field.
How, then, should one formally resign from the services of your company?
Check your sanity before quitting
The first step before pulling the gun is to do some introspection.
You should evaluate your current condition using a SWOT (Strengths, Weaknesses, Opportunities, Threats) matrix. Please describe the pros and cons of your current position. Where do I find these opportunities, if any? What dangers, such as financial instability and stress due to ambiguity, does leaving your job entail?
Think about the various paths available to you and spend some time acquiring information through discussions with teachers and peers. They could show you that things aren't always better on the other side of the fence.
If you are interested in remaining with the same company, you should also look into internal advancement opportunities. Discuss with your superior the best ways to handle the unpleasant parts of your job and the most productive ways to integrate your preferred components into your current responsibilities.
If your employer isn't receptive to your request for a promotion, you might chat with other high-level managers and HR, or search through the company's internal job board to see if there are any openings that fit your criteria.
The benefits of staying with your current company grow exponentially if you work in an environment where you are valued and encouraged to succeed. You're well-established and well-respected, you have established connections and a working knowledge of the area.
Related Posts
Do you still want to quit?
If you have decided that quitting your job is the best option, then consider the following advice.
Your resignation shouldn't come as a surprise to your manager if you've been open and honest with them about the difficulties you've encountered and the goals you hope to achieve in your career.
Rather than treating the comments as an opportunity to air dirty laundry, try reframing it as a conversation in which you ask for help or suggest improvements.
Give your management a chance to put things right by giving them another chance to do their job. After addressing these concerns, submitting your resignation letter should be a formality. As a matter of common courtesy, you should inform your superior before your peers.
If you're frustrated because you've tried communicating your concerns to your boss without success, it may be time to seek out a one-on-one meeting with a higher-up in the organization.
Be prepared to discuss any difficult situations you've encountered at work. As opposed to just being a time for venting or gossip, this will help the decision-maker zero in on the actual problems and provide real-world answers.
Leave with 'grace'
If you're in a position where resignation is inevitable, do so with class and goodwill toward your employer.
One way to show grace is to thank the people who have helped you along the way, such as the employers, teachers, and friends who have all contributed to your development. Avoid gossiping about other people lest you come seem as small-minded.
For example, a generous person would provide stakeholders and HR with honest, constructive criticism on ways in which the company's culture could be enhanced. Your resignation letter should be accompanied by a transition plan document describing handover tasks to ensure minimal interruption to the firm.
Write a resignation letter that is brief and to the point. You should thank your employer for the opportunity to work there and emphasize some of the things you learned from the experience.
Any specifics on grievances can be covered in the exit interview or in written form to HR. You may count on being questioned about your whereabouts and future intentions.
Say something like, "I'm grateful to have found a good position which is aligned with my future professional aspirations." if you don't feel like going into detail. As soon as I have additional information, I will be pleased to share it with you.
Work with your supervisor to choose the best method of informing your coworkers and superiors of your decision to resign. Some companies prefer a direct announcement to employees, while others prefer a group announcement at a staff meeting.
How you resign has a lasting impact on your legacy. Despite appearances to the contrary, many people you meet in the workplace may reappear in your life at some point.
A positive impression can be left during a trying moment by leaving with respect, understanding, and grace. Poet Maya Angelou famously stated, "What you say and do may be forgotten, but how you made someone feel will never be forgotten."