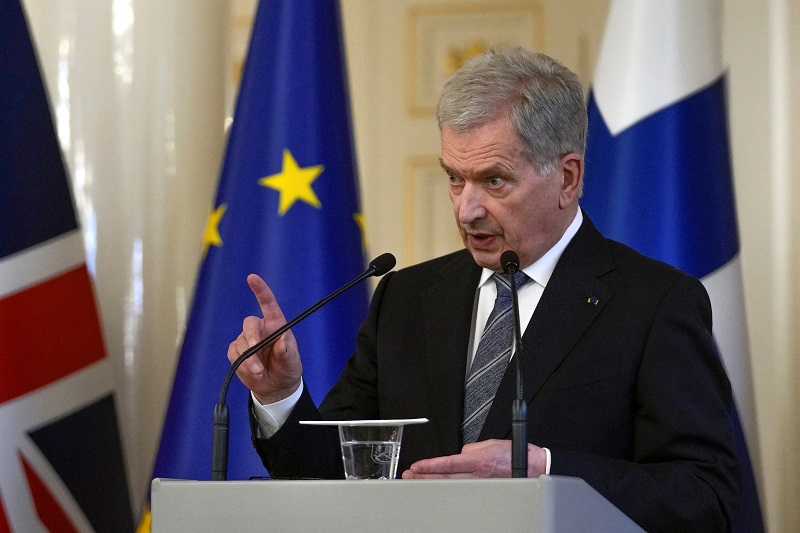 british prime minister johnson meets finland's president niinisto, in helsinki
Finland plans to join NATO 'without delay.'
In a joint statement, Sauli Niinisto and Sanna Marin said they expected a decision within the next few days. Following Russia's invasion of Ukraine, public support for Nato membership has risen dramatically.
Finland and Russia have a 1,300-kilometer (810-mile) border. To avoid antagonising its eastern neighbour, it has kept out of Nato until now.
After consideration by parliament and other officials, Finland will formally announce its decision on Sunday. Sweden has stated that it will make a similar announcement on the same day.
Also Read: All you need to know about 5 top French unicorns
If the two governments break their long-standing policy of military non-alignment, Russia has warned them of unspecified consequences around a month ago. However, Nato Secretary General Jens Stoltenberg has stated that he expects Sweden and Finland to join Nato "quite quickly."
In their statement, President Niinisto and Prime Minister Marin stated that they wished to allow the Finnish public time to examine the subject, but that the time for a decision was approaching.
It stated that joining NATO would boost Finland's security. "Finland's membership in Nato would boost the whole defence alliance. Finland should ask for NATO membership as soon as possible."
Last week, a poll found that 76 percent of Finns support joining NATO, with only 12 percent opposed, marking a significant shift toward participation since the invasion.
During World War II, Finland and the USSR were on opposing sides, with the Finns famously repelling a Soviet invasion in 1939-40.
However, Finland lost 10% of its land in the final peace accord and remained a non-aligned country during the Cold War.
Also Read: 5 Most Richest European Countries As Per Their GDP
Russia's boundaries with Nato would be more than doubled if it joined the organisation. Sweden shares no borders with Russia.
Denmark announced shortly after Finland's statement that it will press for Finland's rapid accession to Nato. On Twitter, Prime Minister Mette Frederiksen stated, "Denmark will do everything for a quick admission process after the formal application."