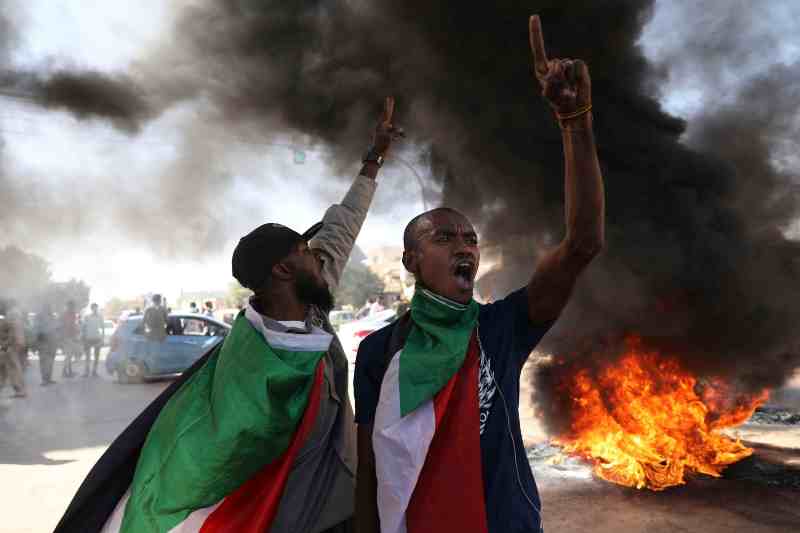 Sudan Protests
Ethiopia Plays Double Game Sudan Protests
Last updated on January 18th, 2021 at 08:20 am
Sudan Protests: Sudan is up and arms against Ethiopia over the latter sending its military planes into Sudanese airspace. 
It is being considered an 'unjustified and dangerous' escalation between the nations that had recently been subsided. Further armed Ethiopian gangs have also taken lives in the Sudanese area.
Sudanese military, Lieutenant General Abdel-Fattah al-Burhan said that Ethiopians have been attacking in their last for close to two decades.
This is with regards to the disputed al-Fashaga area.
In December, both sides had formed a committee to come on a common ground over the Al-Fashaga area, but the fresh attack seems to show that the Ethiopian side does not solicit the agreement at all.
In fact, it seems that the Ethiopian military has taken advantage of the internal strife that has broken out in the Tigray region and attacked the disputed land. This was communicated by the Ethiopian ambassador in Khartoum, Mulugeta Zewde.
In response, the Ambassador to Ethiopia, Yibeltal Aemero has shifted the blame on Sudan instead, saying that "Very recently, in the first week of November 2020, we witnessed unprecedented military incursion by the Sudan while the joint special committee was still in progress and when the Ethiopian National Defense forces moved to Tigray region on November, 4, 2020 for the law enforcement majors, the Sudanese army took the advantage and entered deep inside Ethiopian territory, looted properties, burned camps, detained, attacked and killed the Ethiopians while displacing thousands."
The recent attacks have led to displacements in more than 34 Sudanese villages. The reality is explicit and could lead to another major confrontation between Sudan and Ethiopian sides.