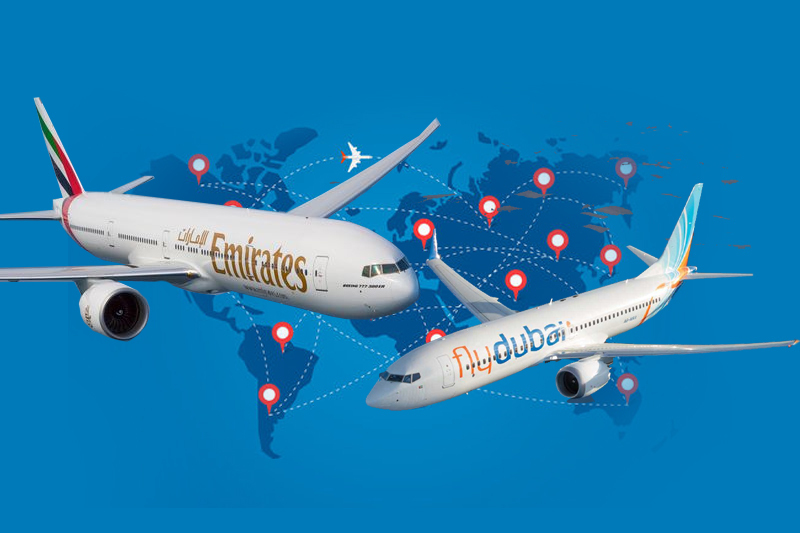 emirates airlines fly dubai now operate to 247 destinations
Emirates Airlines, Fly Dubai now operate to 247 destinations
The leading airlines of United Arab Emirates, Emirates Airlines and Fly Dubai, showing constant signs of ramped up operations and return towards normalcy post pandemic, will now operate to 247 destinations around the world. The number is increased as the airlines have resumed flights to many destinations across the six continents while also adding new destinations to their global aviation network.
As of now, the total number of destinations within the network of the two companies – Emirates and Fly Dubai – has reached 247 destinations, including 140 destinations for Emirates Airlines and 107 destinations for Dubai based Fly Dubai airlines.
Emirates Airlines
Emirates Airlines has successfully restored more than 90 per cent of its global network as of pre Covid-19 pandemic. According to the airline data, as of September 30, 2022, the carrier was operating passenger flights to 140 destinations across the world as compared to 128 destinations during the beginning of this year. The humongous fleet of the leading airline is comprised of Boeing 777 aircraft and 73 aircraft, as well as the giant A380.
Fly Dubai
Fly Dubai is launching flights that will operate to six new destinations. The new destinations include Cagliari, Corfu, Krabi, Milan and Pattaya from 2023 as well as the resumption of flights to Hofuf from 24 November 2022, as mentioned on the airline website. This will bring the total destinations to 113 that the airline will be operating to. Commenting on the expansion of the airline's network, Ghaith Al Ghaith, Chief Executive Officer at Fly Dubai, said, "I am very proud to see our network grow bigger than ever. Dubai's aviation industry has made a swift recovery, and our agility combined with our strong business model has enabled us to grow our operations and to achieve this significant milestone. With 113 destinations now available to book, we look forward to offering our passengers more options for travel across our ever-growing network."
Keep Reading
Jeyhun Efendi, Senior Vice President, Commercial Operations and E-commerce at Fly Dubai, said, "We are excited to announce the launch of year-round flights to Milan in Italy and seasonal summer flights to Corfu in Greece and Cagliari in Italy. We are pleased to see our network in Europe grow and to serve five destinations in Italy. Over the years, we have continued to see increased demand to and from the region and we look forward to providing our passengers with exceptional travel experiences."