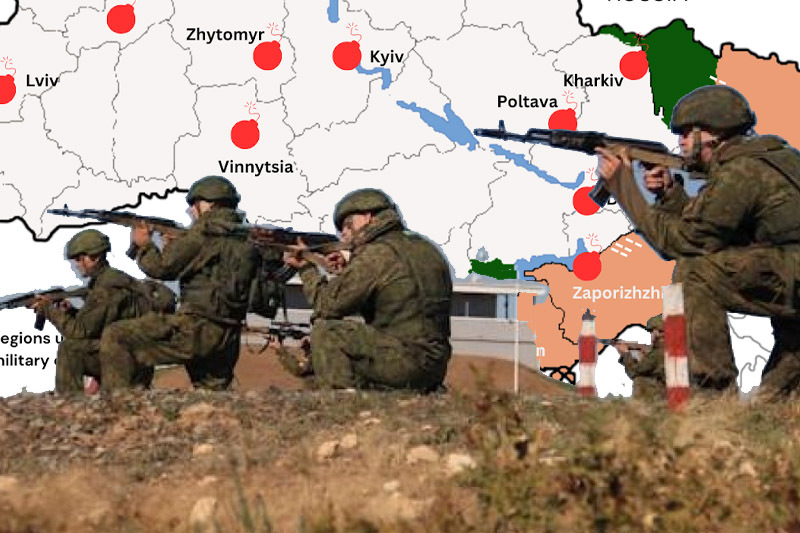 Does Bakhmut's strategic value outweigh its symbolic importance? Not really.
Does Bakhmut's strategic value outweigh its symbolic importance? Not really.
While Russia claims it has fully captured the small city of Bakhmut in Ukraine's east, Kyiv says it still controls part of the city.
Russian President Vladimir Putin congratulated the regular Russian troops and the Wagner Group private army for "liberating" Bakhmut on Saturday, but his Ukrainian counterpart Volodymyr Zelensky said although Russian troops are in the city, it is "not occupied".
With a population of about 70,000 people before the invasion, Bakhmut used to be a sleepy, nondescript city. But it has seen eight months of fierce clashes in the bloodiest battle since Russian troops marched into Ukraine in February last year.
Read on for why the small city has become so significant in the war.
Limited Strategic Importance
Russian troops need to capture Bakhmut in order to advance further into Ukraine and achieve Putin's goal of "liberating the Donbas".
But the increasing importance the two warring sides have placed on the city isn't quite related to any strategic value. Even if either side brings Bakhmut under their complete control, they would then encounter a series of defensive lines positioned around it.
Keep Reading
The city instead carries significant symbolic importance it has gained over months of bitter fighting.
While for Ukraine, Bakhmut has become an example of determined resistance, Russia is currently in dire need of a victory. After a few initial advances in the first months of the invasion, a successful Ukrainian counteroffensive brought Russia a series of humiliating defeats.
What would the capture of Bakhmut mean?
For the Ukrainian side
Delivering his speech at the G7 summit in Japan on Sunday, Zelensky said Bakhmut has been "completely destroyed", suggesting a potential capture of the city would be regarded by Kyiv as a pyrrhic victory for Russia.
The loss could impose a huge impact on the morale of Ukraine. While it isn't exactly clear how many troops on both sides have been killed in the year-long conflict, both Kyiv and Moscow have claimed to have killed hundreds in just a single day.
The potential capture would also come at a time when Ukrainian forces are expected to launch a highly-anticipated counteroffensive.
For the Russian side
The fall of Bakhmut could provide a huge boost to the morale of Russian forces, which are in need of their first victory in more than ten months. Despite launching a series of drone and missile strikes at Ukraine since the latter half of 2022, Russia has made no significant territorial gains.