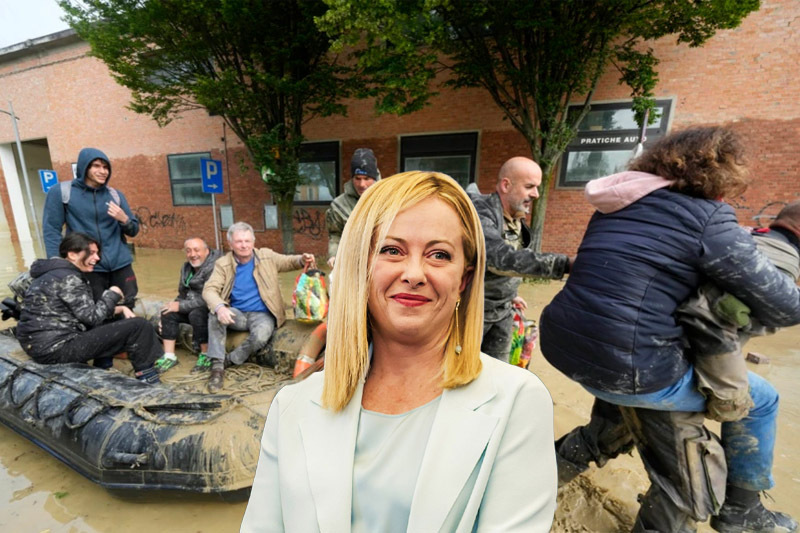 Giorgia Meloni visits areas in northern Italy badly hit by deadly floods
Giorgia Meloni visits areas in northern Italy badly hit by deadly floods
Cutting short her visit to Hiroshima, Japan, for the Group of Seven (G7) summit in response to a deadly disaster, Prime Minister Giorgia Meloni visited areas of northern Italy devastated by floods on Sunday.
Meloni visited the badly affected region of Emilia-Romagna, where at least 14 people have been killed in the floods and over 36,000 evacuated.
Nearly 5,000 of the evacuees are currently taking shelter in government-allocated centres such as museums and cinemas, officials from the region's Civil Protection Agency said. So far, roughly 16% of the region's territory has been evacuated, they added.
According to the Civil Protection Department, scores of rivers burst their banks across the region, paving the way for 280 landslides.
Keep Reading
The concerned departments are now diligently engaged in clean-up operations, with recent footage from the emergency services showing mud being removed from washed-out roads after landslides.
According to Enel, a prominent manufacturer and distributor of electricity and gas, the floods left as many as 27,000 people without power.
The disaster has had a major impact on farmland and livestock, with a farming association describing the damage as "incalculable".
The torrential downpours and eventual flooding came after months of dryness in Italy, which meteorologists say has reduced the capacity of land to absorb water, exacerbating the disaster.
Lake Garda in northern Italy saw record depletion in water levels in February, with Venice facing unusually low tides.
As global temperatures hit record levels, the intensity of water-related disasters has increased across the globe over the past 20 years. Droughts have got lengthier and floods have got severe.