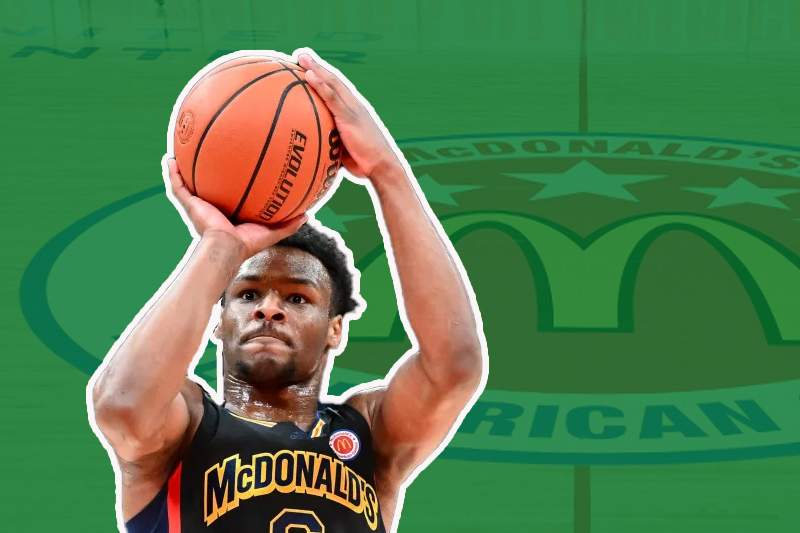 Bronny James' performance in McDonald's All-American Game
Bronny James' performance in McDonald's All-American Game
During the McDonald's All-American Game on Tuesday night, Bronny James was the center of attention. As the eldest son of LeBron James, the NBA's all-time leading scorer, you should expect that.
Bronny James performed admirably on the big stage.
James impressed in the East's 109-106 victory over his West squad, scoring 15 points on 5-for-8 shooting (all five of which came from beyond the arc). His selection for the All-American game had raised some controversy. LeBron James was present to watch his son, Bronny, celebrate with each basket. LeBron James has made it clear that he would want to play in the NBA alongside Bronny someday.
Keep Reading
Bronny James College
The only player chosen for the McDonald's All American Game who has not yet made a commitment for the 2023–24 season is James, a four-star prospect. James has offers from Memphis, Ohio State, and Southern California, according to 247 Sports, and he has also shown interest in Oregon.
Bronny James High School team
James, who stands 6 feet 3 inches tall, attended Sierra Canyon High School in Chatsworth, California.
Pink Shoes
James stood out on the floor in stark contrast to his fellow competitors who were wearing Adidas thanks to his bright pink footwear. James donned Nike sneakers in place of the Adidas clothing that was sponsored by McDonald's All American, along with JuJu Watkins from Sierra Canyon in Los Angeles and DJ Wagner from Camden High in New Jersey.
In October, Nike signed NIL (name, image, and likeness) contracts with James, Watkins, and Wagner. James wore the LeBron 20, Wagner wore the Kobe 6, while Watkins wore the GT Cut 2, according to ESPN's Nick DePaula.