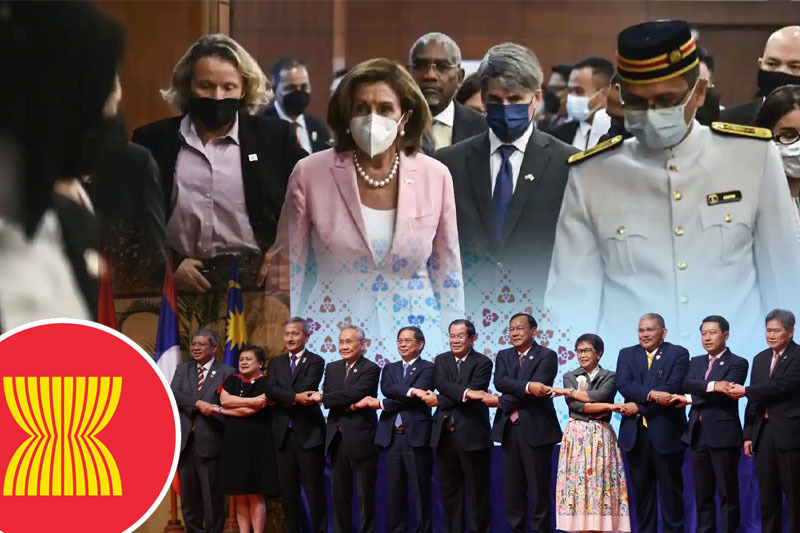 asean advises us china to avoid affront over taiwan post pelosis visit
ASEAN advises US & China to avoid affront over Taiwan post Pelosi's visit
United States House Speaker Nancy Pelosi has moved towards the next leg of her Asia visit, South Korea, but her visit to Taiwan has created a ruckus in region by infuriating Beijing. As China has started unprecedented military drills in the airspace and water around Taiwan, the looming escalation has put the entire southeast Asian region on high alert. The Association of Southeast Asian Nations (ASEAN) have urged for calm in the Taiwan Strait, advising United States and China against any provocative action in wake of Pelosi's visit to Taipei.
Rare statement by ASEAN
Issuing a rare statement from the 10 nation membered regional association, many member nations of which share close relations with Beijing while others towards Washington, ASEAN said on Thursday that they were concerned situation could "destabilize the region and eventually could lead to miscalculation, serious confrontation, open conflicts and unpredictable consequences among major powers." The foreign ministers of the ASEAN nations are gathered in Phnom Penh in Cambodia for meeting. Both U.S. Secretary of State Antony Blinken and Chinese Foreign Minister Wang Yi are also present for the ongoing ASEAN meetings on Thursday and Friday in Phnom Penh.
ASEAN foreign ministers called for "maximum restraint" and for all sides to "refrain from provocative action."
"The world is in dire need of wisdom and responsibility of all leaders to uphold multilateralism and partnership, cooperation, peaceful-coexistence and healthy competition for our shared goals of peace, stability, security and inclusive and sustainable development," they said.
China begins unprecedented military drills in response to Pelosi's visit to Taiwan
Despite warning from Chinese president Xi Jinping to his American counterpart Joe Biden when US House Speaker Nancy Pelosi landed in Taipei on Tuesday night, unannounced, Beijing was furious. In aftermath of the visit, China has started unprecedented military drills in the Taiwan Strait.
Also Read: Pelosi's "pledge" to support Taiwan triggers China's aggression
On Wednesday, Beijing sent 27 warplanes into Taiwan's air defense identification zone (buffer airspace called ADIZ). Twenty two of those jets have crossed the median line of the Taiwan Strait, a flight map provided by the Taiwan defense ministry showed. A map has been released by Chinese defense ministry showing six zones around Taiwan where air and sea military exercises will be conducted by China. The drills are to continue for 4 days starting Thursday.
"We should act together and ASEAN stands ready to play a constructive role in facilitating peaceful dialogue between all parties including through utilizing ASEAN-led mechanisms to deescalate tension, to safeguard peace, security and development in our region," foreign ministers of ASEAN said in the released statement. ASEAN countries include Brunei, Cambodia, Indonesia, Laos, Malaysia, Myanmar, the Philippines, Singapore, Thailand and Vietnam.