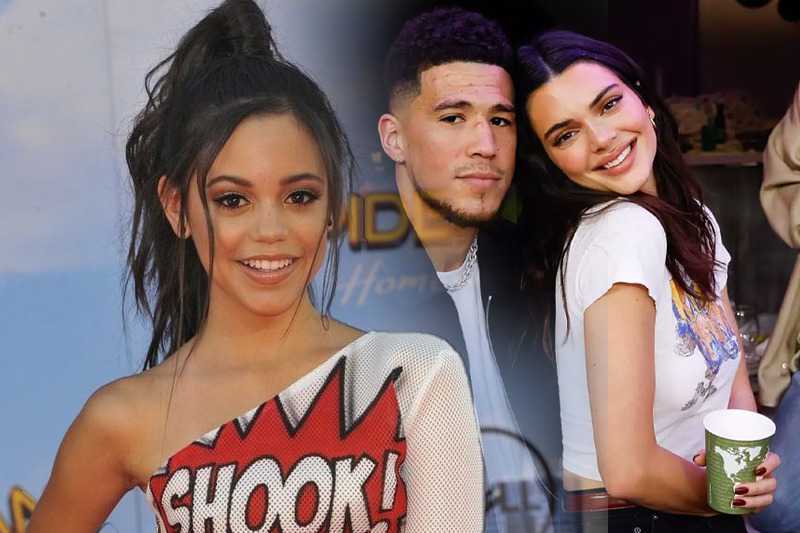 Are Jenna Ortega and Devin Booker dating? The picture goes viral
Are Jenna Ortega and Devin Booker dating? The picture goes viral
Wednesday star Jenna Ortega and American professional basketball player Devin Booker are rumoured to be dating each other. Recently, a picture of Jenna and Devin went viral on social media. Fans are confused about their relationship.
ButtCrackSports shared the picture of Jenna and Devin on its Twitter handle. The picture also had a watermark of TMZ. The account often posts parodies and satiric content on Twitter. Sharing the picture of Jenna and Devin, ButtCrackSports wrote on Twitter, "Devin Booker and Jenna Ortega were seen having dinner together last night." Subsequently, some fans started believing the news. However, some fans pointed out that the picture was photoshopped and fake.  The account claimed to have spotted them after dinner. However, Devin's photo was from New York in September last year, while Jenna's photo was from the Scream VI premiere night.
Keep Reading
No other credible source reported about them dating. Reportedly, Jenna and Devin don't know each other. Both of them are reported to be single.
In an interview with Elle Magazine, Jenna said that the idea of dating "stresses" her out. She said that she wanted to focus on her work. Jenna rose to fame after playing the role of Wednesday Addams in the hit supernatural comedy horror series 'Wednesday'. The show premiered in November and became the second most popular English-language series with over 400 million hours in just a week. The hit series on Netflix has been renewed for season 2.
Devin Booker used to date the successful American model Kendall Nicole Jenner. They reportedly dated for 2 years. However, they broke up in 2022. Devin Booker also unfollowed Kendall Jenner on Instagram after they broke up with each other. The former Kentucky Wildcats player did not reveal the reason behind the breakup. He has been romantically linked with anyone, as of March 2023.