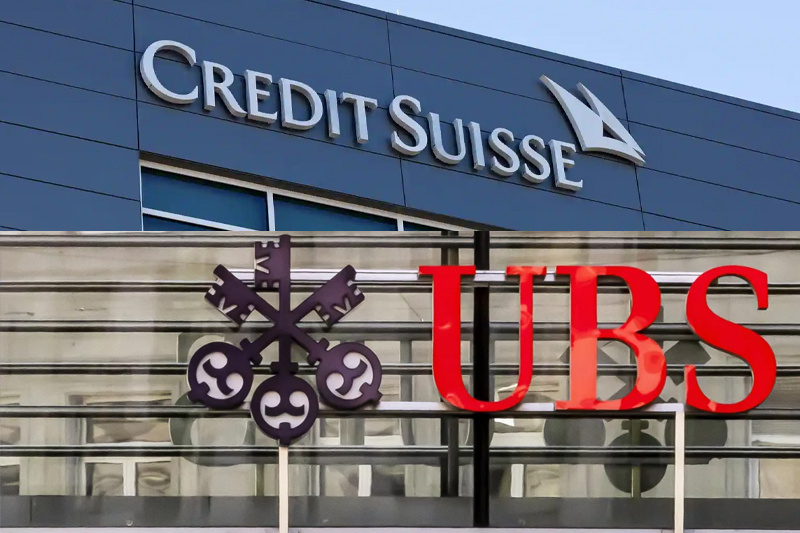 5 Major Updates: Share prices fall across globe following Credit Suisse takeover
5 Major Updates: Share prices fall across globe following Credit Suisse takeover
Swiss banking giant UBS decided to acquire embattled lender Credit Suisse in a government-backed deal worth $3.23 billion, the Swiss National Bank announced at a press conference on Sunday evening. However, it was not immediately clear if the rescue would swiftly dilute investor concerns about the banking sector more generally.
Swiss President Alain Berset highlighted that the Swiss Federal Council welcomed the acquisition as it was the best way to restore market confidence in the Swiss financial center.
How have the markets been reacting following the takeover? Read on for five major updates.
Keep Reading
1. Credit Suisse is Switzerland's second-largest lender and was often seen as a bank that was too important to collapse. Its acquisition represents the most significant failure of a crisis of confidence in the banking sector that also saw the collapse of Signature Bank and the Silicon Valley Bank in the US.
2. Since the Sunday takeover by its Swiss rival, shares of Credit Suisse have dropped over 60%, in line with the significant fall analysts had expected. The deal valued the bank at just over $3.15 billion, representing a fraction of its $8 billion tag on Friday. Shares in UBS are also down 13% and others like Deutsche Bank down 10% this morning.
3. In Asia, share prices fell on the first day's trading following the last-minute takeover. While the Hang Seng index in Hong Kong dropped by roughly 3%, the Nikkei in Tokyo is over 1% down.
4. British banks shares dropped 2.9%, with HSBC and Standard Chartered among the hardest hit – 3% and 4.8%, respectively. Today's morning slide extended declines from last week, which was the British banks' worst weekly performance in over a year. Nevertheless, the Bank of England tried to assure that banks are "safe" following the rescue deal.
5. Meanwhile, six of the biggest central banks in the world, including the Bank of England, are working together to keep credit flowing amid the unsettled period by boosting the flow of US dollars through the global financial system.