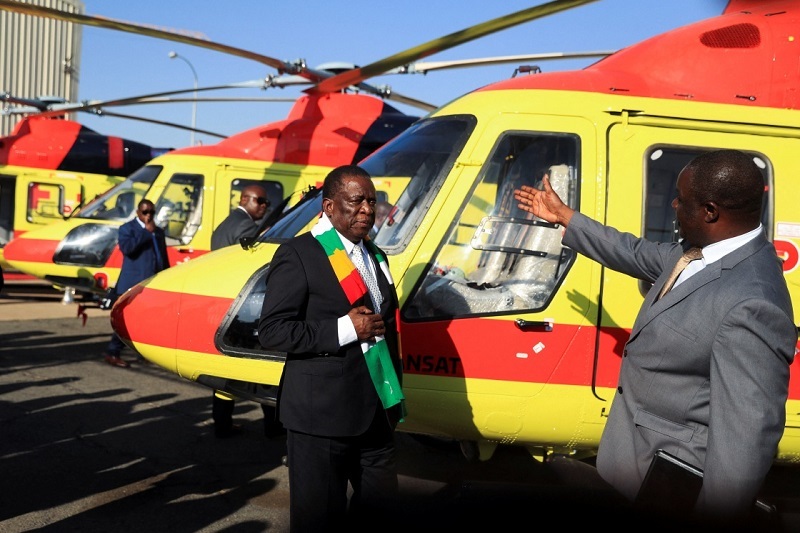 Zimbabwe's deal to buy 32 helicopters for $320 million from Russia sparks controversy
Zimbabwe's deal to buy 32 helicopters for $320 million from Russia sparks controversy
The Russian State Corporation (ROSTEC) provided two Kazan Ansat helicopters that will be utilized for air police, rescue, and air ambulance operations. By the end of 2025, fourteen more will have been delivered.
The world-famous nature area Mana Pools and Victoria Falls will both be served by part of the aircraft, according to President Emmerson Mnangagwa, who spoke after receiving the planes on Thursday (18 May).
According to him, who was reported by state-owned The Herald on Friday (May 19), "Zimbabwe is under sanctions; we are constrained unlike our neighbors and the rest of the world to acquire the tools we need to mitigate the impact of cyclones and disasters in our region."
Nikolai Krasilnikov, the Russian ambassador to Zimbabwe, commended his host for standing with him when Moscow waged war on Ukraine.
"It makes us proud that in the current geopolitical situation Russia and Zimbabwe, as the all-weather friends, enhance their interaction despite threats of sanctions and challenges of the turbulent times we live through," the official added.
However, some have questioned the priorities of the Zimbabwean administration.
Keep Reading
The acquisition has to be looked into, according to Mso Ndlovu, a spokeswoman for the opposition Zimbabwe African People's Union, who talked to the independent newspaper NewsDay.
"Buying such choppers would be a reason for celebration in a normal country with a normal economy, but Zimbabwe is far from being a normal country," Ndlovu is reported as saying on Monday (May 22).
Zimbabwe, which has ties to Russia, has not protested Moscow's invasion of Ukraine.
The newspaper quoted an unnamed critic as stating, "Private-public partnerships mean the money used belongs to the public and there should be accountability."
It also implies the involvement of private corporations, so why has the government only disclosed State actors? Was this agreement put up to bid?
The Canadian corporation Pratt & Whitney, whose controlling company is US-owned Raytheon Technologies, provides the engines for the Kazan Ansat helicopters.
Cox stated on Twitter that Russia "dumped these on Zimbabwe quickly because they knew they would no longer be able to get engine support for them."