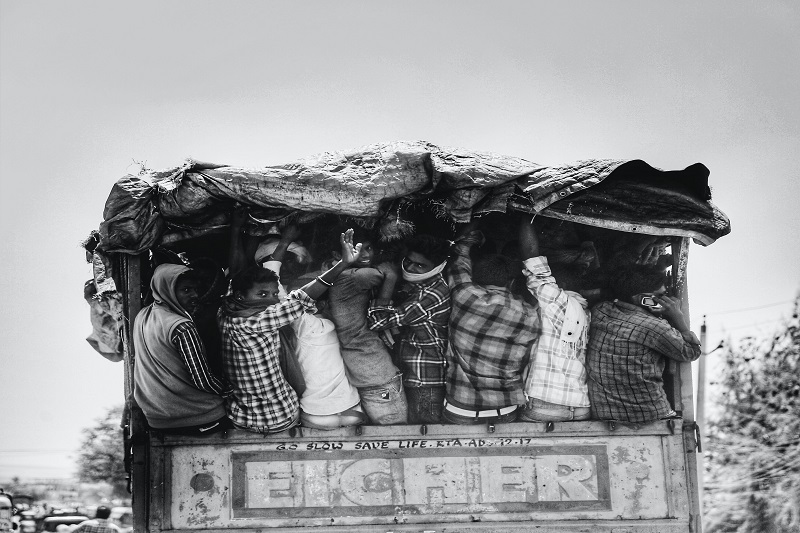 Why Pakistanis Risk Travelling to Europe via Libya
Why Pakistanis Risk Travelling to Europe via Libya
Pakistanis are traveling to Europe via Libya. In June, an overcrowded boat sank off Greece, killing many. Most of the nearly 13,000 Pakistanis who went to Libya and Egypt this year haven't returned, including two teenagers who told their mothers not to worry.
Punjab police station is 35C (95F), humid, and still. The officer's temple shines from our sweat.
We see a small cell down a short open corridor past rooms with precariously balanced papers. Sixteen men sit side by side on the cement floor, damp seeps through the walls, a single fan whirs behind the cell bars, and a low wall hides a toilet.
These men are accused of human smuggling, most directly related to the migrant ship that sank off Greece on June 14. Nearly 300 Pakistani passengers are missing, presumed dead.
Any volunteers? Husnain Shah stands out. He denies causing the shipwreck off Greece, but this is his third arrest.
With the economy teetering, inflation near 40%, and the Pakistani rupee falling, many are looking to go abroad, where even a low salary will likely exceed what they can earn here.
62% of 15-24-year-old boys and men wanted to leave last year, according to a survey. Others will go illegally.
The Pakistani authorities told us that the recent Greek shipwreck highlighted a new route for Pakistanis: flying via Dubai to Egypt or Libya, then taking a large boat from eastern Libya to Europe. Illegal migration is hard to quantify.
Mohammed Alam Shinwari, who leads Pakistan's investigation into the Greek shipwreck, says that after Turkey cracked down on illegal arrivals, fewer people are traveling across Iran to Pakistan.
In comparison to the first half of 2022, when 7,000 Pakistanis departed for Libya or Egypt, nearly 13,000 did so in 2023. Of the 13,000, 10,000 are missing.
Surprisingly, the police didn't realize how many Pakistanis took this route until the shipwreck. Pakistanis were on a ship that sank off Italy in February after traveling from Turkey to Libya.
Mr. Shinwari claims that investigating these routes is difficult when families do not report what happened to the police. He says people don't complain but settle out of court. Since the information must come from the families, who frequently refuse to provide it, it becomes very challenging for us to investigate those cases and gather information.
Keep Reading
He also claims that many of these travelers flew with valid Dubai or Egypt visas, making it difficult to stop them. The journey is also more expensive than previous routes, costing 2.5-3m rupees (£6,780-8,140; $8,725-10,470), showing how much people are willing to pay to leave.
Mr. Shinwari tells me that Pakistan stopped 19,000 people from going abroad last year because they feared people smuggling, and they deported 20,000 Pakistanis.
Some travelers are stuck in Libya. We talk to a Punjabi family, but men from nearby villages join us.
Their young men went to Libya weeks earlier and are still there. They beg family and friends for money via voicemail and video.
One father shows a video of over 100 men in a windowless room with white walls and floors. To survive the heat, most men are in their pants and pleading with the camera to get out.
Their families don't know if they're with smugglers, Libyan authorities, or someone else. In case of retaliation against the men still held, they requested anonymity.
One father claims that they only feed them every two to three days. My son, age 18, cries a lot. We gave the money, and now we're here dying, he claims.
Despite these conditions, the families' wishes vary. When asked, they initially said they wanted the young men to continue to Europe safely, but later said they wanted them to return home.
Police say Pakistan's foreign affairs ministry is aware and investigating.
Despite the risks and police crackdown, many Pakistanis told us they were still looking to travel illegally.
Europe-based smugglers said Pakistani routes were still active. Police acknowledged that illegal immigration continues.
All of the people we spoke to who wanted to go or had willingly sent their sons spoke of hope for a better life.
One man said he was pressured to explain why he hadn't crossed because most of his cousins and brothers had.
Others described seeing homes built with money earned abroad and being pressured by nearby smugglers to do what was best for their children's future.
Some had traveled themselves.
Eight years ago, Fareed Hussain illegally entered Germany via Turkey, Greece, Macedonia, Serbia, Croatia, and Slovenia. He returned after four years to care for his father. The smuggler convinced him to send his teenage sons.
According to Fareed, he used to make us think that Europe was right in front of us.
The children will support themselves, and you can purchase whatever you want. I believed that even if they received an education here, they would still be unable to find work. I anticipated they would work and study.
Fareed sold his family plot and sent Farhad and Touheed to Libya via Egypt and Dubai. Their parents have videos of them excitedly boarding the plane, sleeping on the floor in Libya with dozens of other boys and young men, and a voice note sent at 04:00 on the morning they left from someone's mobile saying, "We are leaving, tell mother this is our last message".
The smugglers contacted the family a few days later to distribute sweets because their children had survived. They partied.
The next day, my cousins called. A migrant ship sank in international news. Smugglers left.
The boys never called again. Both drowned in Greece on June 14. 18 and 15. Their parents may never bury them.
Their mother now listens to their voicemails and cries for hours.
Fareed advises against leaving even if there is extreme poverty and people starve to death. It doesn't matter how persuasive anyone is.