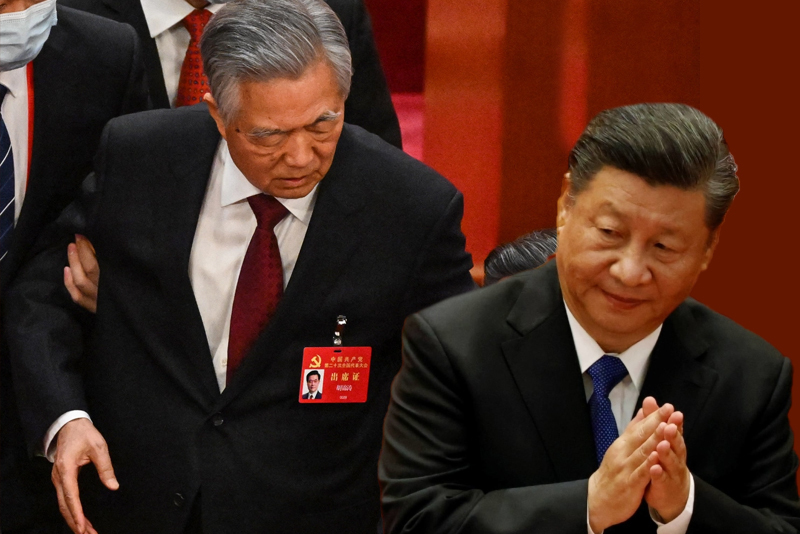 where is hu jintao the former chinese leader
Where is Hu Jintao – the former Chinese leader?
The whereabouts of former Chinese leader Hu Jintao are unknown, since he was suspiciously and awkwardly removed from between the meeting on the final day of CCP 20th congress meeting. Now after eight days of China's most critical meeting, that ended with precedence breaking third term election of China's autocratic leader Xi Jinping, the most common question is where is Hu Jintao and what happened to him?
In a short window between foreign media being allowed into Beijing's Great Hall and the start of the final public meeting of the 20th party congress on Saturday morning, the former Chinese leader Hu Jintao was physically removed from his seat as he sat next to his successor Xi Jinping, and was taken out of the Great Hall of the People. This was enough to spark speculations around the act and continued through the week. Hu was attending the congress as a member of the Presidium, a committee of party elders that oversees the critical congress processes and events.
"Some people are surprised by the abnormality that is Hu's disorderly exit, at what should normally be a very highly choreographed and orderly event," said Sung Wen-ti, a political scientist at Australia National University's Centre on China in the World. "That abnormality fuels speculations."
Keep Reading
According to available footage and as explained by The Guardian, Hu was escorted into the Great Hall on Saturday morning by a staff member and took his seat to the left of Xi. Shortly after foreign media were allowed to enter the hall, Hu looked at some papers present in front of him on the table. An outgoing politburo member Li Zhanshu, to his left, appeared to try to stop him by taking the paper and returning it to a red folder, pushing it out of Hu's reach. Xi appeared to call over a clerk and two staff took him away, gently lifting him out of his seat by his armpits. One picked up the folder and as the papers briefly flapped open, a photo by Spanish media reportedly showed it to be documents relating to the day's proceedings, including the changes to the Politburo. Throughout, Hu appeared confused and unwilling, made a short unreadable comment to Xi, and patted China's outgoing premier, Li Keqiang, on the shoulder as he exited.
Since then, Hu has not been seen in public. Insinuations are plenty as many suggest that the exit of Hu from congress might have been health related while some allege that it is part of some foul play.