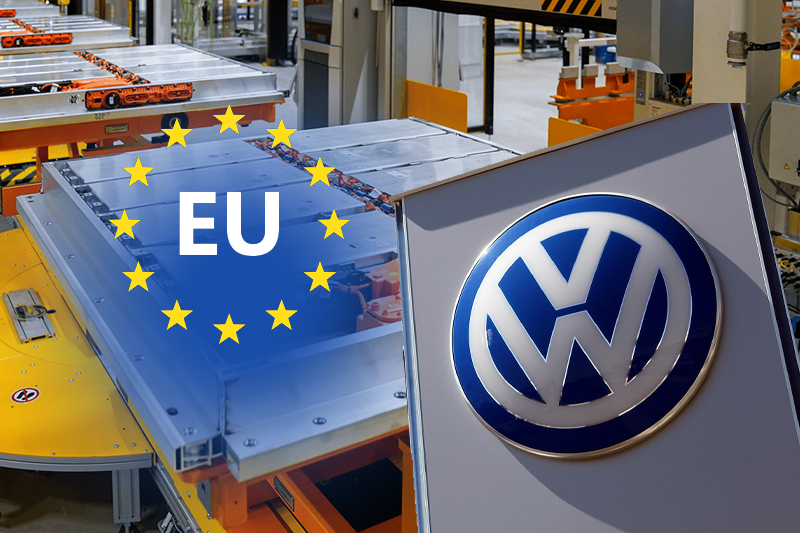 Volkswagen pauses on Europe battery plants, awaits EU response to IRA
Volkswagen pauses on Europe battery plants, awaits EU response to IRA
The company is waiting to hear Europe's response to the U.S. Inflation Reduction Act before proceeding with plans to build further battery plants in Europe.
A person close to the matter, who declined to be identified, told Reuters that North America is getting ahead far faster than Europe.
Volkswagen previously halted plans for a battery plant in eastern Europe, the next plant to be built in that region, in order to focus on building a plant in North America where it could receive subsidies worth 9-10 billion euros ($10.54 billion).
A Volkswagen spokesperson said the carmaker was "still evaluating suitable locations for our next cell factories in Eastern Europe and North America. No decisions have been made."
Keep Reading
Volkswagen announced in March 2021 that it would build six gigafactories in Europe to have a capacity of 240 gigawatt hours under former chief executive Herbert Diess. It is our intention to build about 240 gigawatt-hour cell factories in Europe by 2030, but we need the right framework conditions in order to do this. This is why we are waiting to see what the so-called EU Green Deal brings.
In Sweden, Volkswagen holds a 20% stake in Northvolt. A second in Germany will be built by 2025 with China's Gotion High-Tech.
It was announced last March that the carmaker would build a third plant near Valencia, Spain.
In October last year, the company said it planned to establish a plant in eastern Europe in 2023.
Thomas Schmall, the Volkswagen board member, posted on LinkedIn last week that Europe could be losing "the race for billions of investments that will be decided in the coming months and years" to the IRA.
Last week, Schmall participated in a discussion with EU officials via the European Battery Alliance on what conditions are needed for battery production in Europe.
Among them were state aid in line with China and North America, a raw materials strategy, and affordable renewable energy.
Also Read:- Chinese minister issues conflict warning until US reverses course