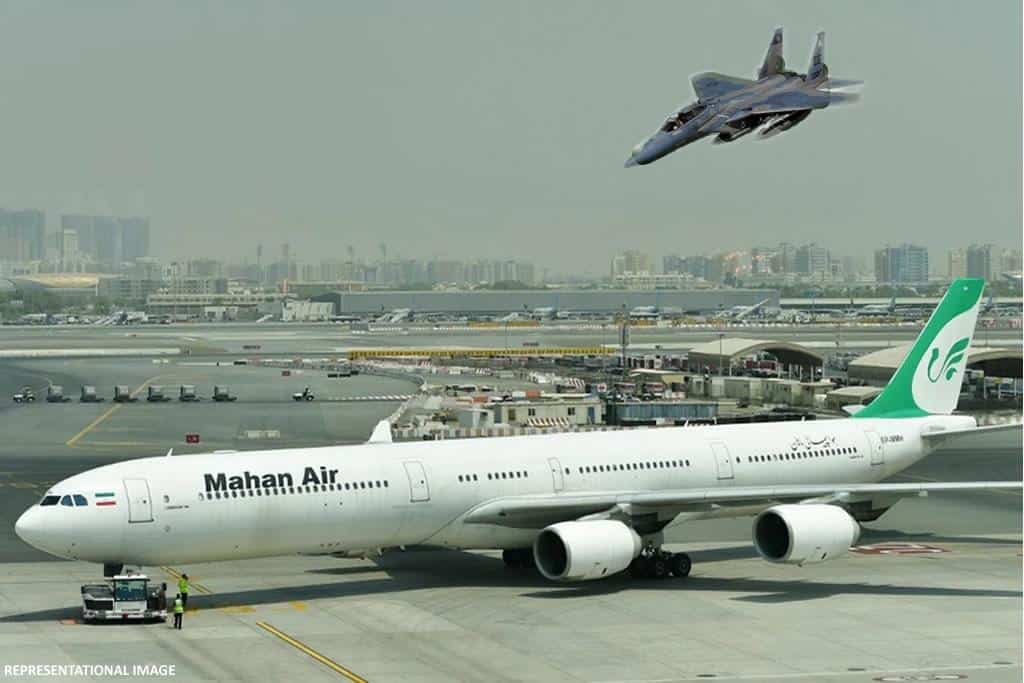 US fighter jet and Iranian passenger escapes collision over Syrian Airspace
On Thursday, US fighter jet and Iranian passenger narrowly escaped collision while travelling through Syrian airspace. As per the media reports several passengers on the Iranian plane got injured as the pilot changed the altitude causing a sudden drop to avoid hitting US F-15. The United States military's Central Command (CENTCOM) which supervises its military actions in the region negated Iran's claims and said that its fighter plane was at a safe distance.
US Captain Bill Urban, the senior Central Command spokesman, said the F-15 "conducted a standard visual inspection of a Mahan Air passenger airliner at a safe distance of about 1,000 meters (3,280 feet) from the airliner this evening."
He added, "The visual inspection occurred to ensure the safety of coalition personnel at At Tanf garrison. Once the F-15 pilot identified the aircraft as a Mahan Air passenger plane, the F-15 safely opened distance from the aircraft."
Iranian state media accused US fighter of 'harassing' the Mahan Air plane which was flying from Tehran to Beirut. The plane landed in Lebanon's Capitol and reached back Tehran on Friday morning.
Iranian state news agency, IRIB posted a video on Thursday showing a single jet hovering near the plane, shot from the window of the plane, followed by a shaky footage along with passengers screaming in the background. As per the reports an elderly person hit the floor of the plane, while another person hit the roof of the Iranian passenger leading to head injury, following the sudden tremors felt on the flight due to sudden drop in altitude.
Iranian foreign ministry condemned the incident as "provocative and dangerous" and demanded complete investigation of the matter. Foreign ministry spokesman Abbas Mousavi told IRNA, "If anything happens to the aircraft on its return flight, Iran will hold the United States responsible." Mousavi added that Tehran would take necessary legal and political actions in response to the US action. Israel and the US have been suspicious of Mahan Air and has accused it oftransferring weapons for Iranian-backed guerrillas fighters in Syria. In 2011, US imposed sanctions on the Iranian airline for providing financial and supply chain support to Iran's elite Revolutionary Guards.
ALso Read:- Coronavirus, Trump cancels the Jacksonville Republican convention