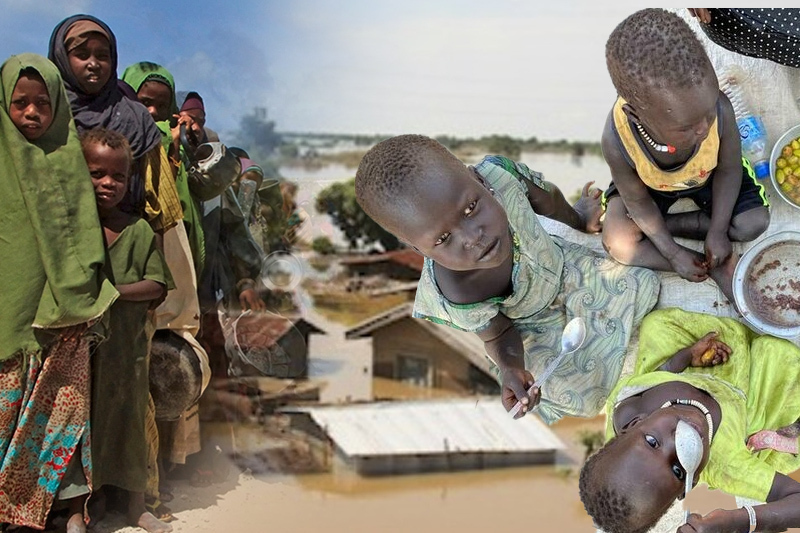 un chief issues warning over flood devastation in nigeria chronic food crisis in burkina faso
UN Chief issues warning over flood devastation in Nigeria, chronic food crisis in Burkina Faso
Expressing his sadness and concerns over the catastrophic situation in Nigeria due to unprecedented floods in decades, UN Secretary General Antonio Guterres said that more than 2.8 million people have been impacted by the floods and at least 1.3 million have been displaced with hundreds of lives lost. A statement issued by the UN chief also highlighted the loss of infrastructure and farmlands in region due to extreme floods.
Mr. Guterres extended his condolences to the Government of Nigeria and to the affected families, reiterating the "UN's continuing commitment to supporting the Government of Nigeria in this challenging time."
UN Children's Fund (UNICEF) has said that 60 per cent of the most affected and in acute need of assistance are children, who are right now extremely vulnerable and at increased risk of drowning, waterborne diseases and malnutrition. "Children and adolescents in flood-affected areas are in an extremely vulnerable situation," said Cristian Munduate, UNICEF Representative in Nigeria. "They are particularly at risk of waterborne diseases and emotional and psychological distress. UNICEF is working closely with the Government and other partners to provide life-saving assistance to those who are most in need."   
Keep Reading
UN Emergency Relief Coordinator, Martin Griffiths, raised alarm over the concerning situation in landlocked West African nation Burkina Faso that is right now reeling with chronic food crisis. "Humanitarian needs are rising fast. A quarter of the population, or some 4.9 million people need emergency assistance, a staggering 40 per cent more people than at the beginning of the year", he said. "One in ten Burkinabe is displaced from their homes by devastating conflict and climate shocks."
"The situation is so bad that women are risking their lives, crossing lines of control at night in search of food. I spoke with community leaders who urged those in charge to open roads for food, water, and vital medicine to reach them, to save lives. There are peaceful initiatives to find solutions and there is still hope. The people of Djibo deserve our respect, admiration and much more support in this hour of dire need," relief chief Griffiths said.