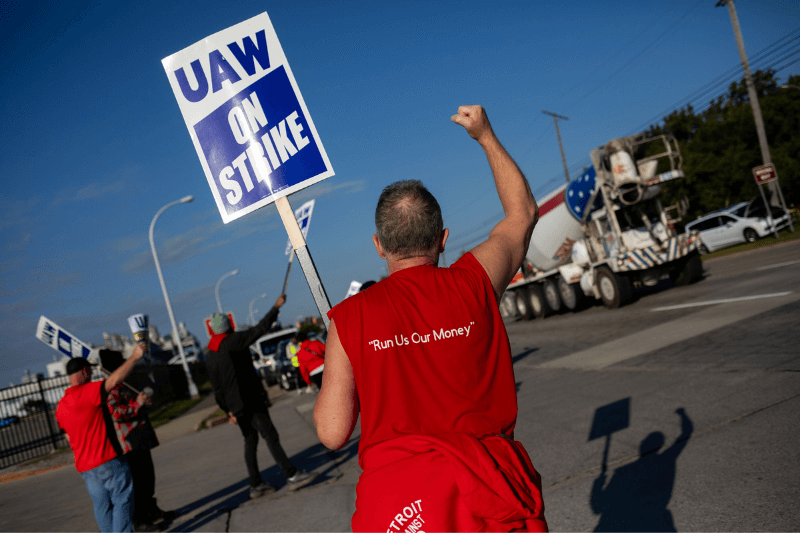 uaw strikes trump's campaign slams biden's michigan trip as 'cheap photo op'
UAW Strikes: Trump's Campaign Slams Biden's Michigan Trip As 'Cheap Photo Op'
"Tuesday, I'll go to Michigan to join the picket line and stand in solidarity with the men and women of UAW as they fight for a fair share of the value they helped create."
Joe Biden is set to join the United Auto Workers union on the picket line, a trip that comes after the US president faced political pressure to elevate his public support for the union members.
"It's time for a win-win agreement that keeps American auto manufacturing thriving with well-paid UAW jobs," he wrote on X, previously known as Twitter.
Biden's trip will come just a day before former President Donald Trump is scheduled to deliver a primetime speech to current and former union members, including from UAW, in Michigan.
While Trump adviser Jason Miller claimed Biden is only planning the trip because his predecessor had announced his own, Trump's campaign called Biden's trip a "cheap photo op".
Currently the frontrunner in the GOP presidential race, the businessman-turned-politician would potentially be skipping the second Republican primary debate for the Detroit speech.
Keep Reading
The Race To Become "The Party Of The Working Class"
Biden has been facing low polling numbers on his handling of economic issues. And union members have gradually gravitated to Republican candidates, according to the AFL-CIO.
Nonetheless, UAW President Shawn Fain recently invited Biden to join the picket line after announcing an escalation of the industrial action, while publicly denouncing Trump's trip.
Biden's highly-anticipated trip on Tuesday will likely be the first for any president. Jeremi Suri at University of Texas doesn't believe any president has ever visited a picket line during a strike.
In June, the Biden administration approved a $9.2 billion government loan so that Ford and SK could build three EV battery plants. The move, however, swiftly drew flak from Fain.
The UAW sees such decisions as a threat to its members' jobs. But after Fain and Biden met face-to-face at the White House in July, the union boss has been far less critical of the president.
Some Democrats have been urging Biden to do more. The Democratic Party needs to demonstrate it's "the party of the working class," said California Rep. Ro Khanna on Monday.