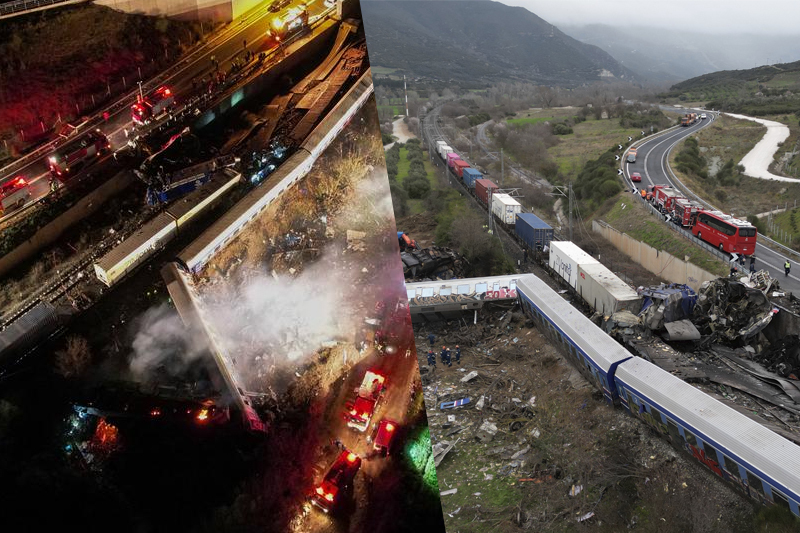 Two trains collide in Greece, at least 32 killed, dozens injured
Two trains collide in Greece, at least 32 killed, dozens injured
At least 32 people have been killed and dozens of others injured after a passenger train heading from Athens to the northern city of Thessaloniki with some 350 people onboard collided on Tuesday with a cargo train travelling from Thessaloniki.
Some of the passenger carriages were known to have exploded in flames from the impact of the crash that took place outside the central city of Larissa.
The first four carriages of the passenger train were derailed, with the first two "almost completely destroyed", Thessaly regional governor Konstantinos Agorastos told SKAI TV, adding "[the two trains] were travelling at great speed and one [driver] didn't know the other was coming [on the same track]."
Some 250 passengers had been evacuated safely by bus to the Greek port city of Thessaloniki about 130 km away.
Keep Reading
While some rescue workers were searching through the wreckage with high-powered torches for trapped passengers, others were scouring the fields nearby for survivors.
"We are going to be here all night … until we find the last person," ERT public broadcaster cited a volunteer rescue worker as saying. Another rescuer described the incident as tragic as he emerged from a carriage.
While one passenger told SKAI TV, "there was panic in the carriage," another – who told the newspaper Protothema that he wasn't hurt but was stained with blood from other people near him – called the experience "very shocking".
While the passenger train left Athens at about 7:30 pm, the fire brigade said it was informed of the crash shortly before midnight. An emergency government meeting was organised shortly after the accident and the country's Health Minister Thanos Plevris has travelled to the scene.
Meanwhile, hospital units in the area responsible for treating burn victims have been alerted and a number of ambulances have also been dispatched to the spot.
Also Read:- Does Japan have fewer babies because young people aren't good lovers?