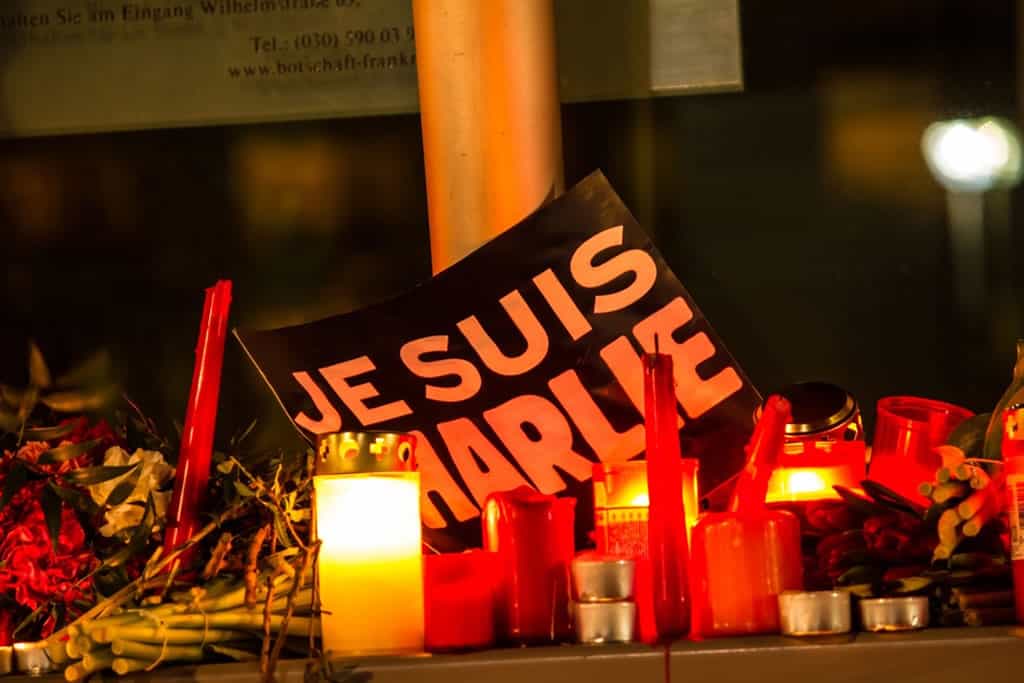 "Tout ca pour ca": A day before trial French magazine Charlie Hebdo republishes scandalous Mohammed cartoons
A day before 14 accused people go on trial for helping two Islamic attackers kill a dozen people in a gun rampage on January 7, 2015, the French satirical magazine Charlie Hebdo has republished the controversial cartoons on Prophet Mohammed that had made it the target of terror attack in 2015. In the deadly Islamic terror attack 12 people were killed, including celebrated cartoonists. In a related attack in Paris days later five more people were killed. This attack had marked a series of jihadist attacks across France.
The latest edition cover features the original 12 controversial cartoons of Prophet Mohammed that were published in Charlie Hebdo, and earlier in a Danish newspaper. One of the cartoons has Mohammed wearing a bomb on head instead of turban. The republished feature of magazine reads "Tout ca pour ca" ("All of that for this"). In its editorial the magazine notes that since the 2015 attack it has been asked many times to continue printing of prophet caricatures. It says, "We have always refused to do so, not because it is prohibited – the law allows us to do so – but because there was a need for a good reason to do it, a reason which has meaning and which brings something to the debate."
"To reproduce these cartoons in the week the trial over the January 2015 terrorist attacks opens seemed essential to us", it added.
Out of fourteen alleged accomplices to the 2015 attack, 11 are to stand trial in Paris on September 2, Wednesday. Rest three will be tried in absentia. The accused are on trial for being accomplice to the Islamist attackers to carry out shooting in and around Charlie Hebdo's office in 2015, killing 12 people. A third attacker had killed a policewoman and then attacked a Jewish supermarket. In just three days over 17 people were killed, starting a wave of jihadist attacks across the country leaving more than 250 people dead.
The Trial
After almost four months of trial being postponed due to coronavirus pandemic, the proceedings will commence on Wednesday. The three accomplices who would be missing in trial are believed to have disappeared somewhere in Iraq and northern Syria. Some also believe that these men have been killed in bombing targeting Islamic State (IS) group, but it isn't confirmed. The trial is to proceed in necessary sanitary conditions with all concerned parties, witnesses and experts. There are over 200 plaintiffs in trial. Survivors of attack are to testify in the trial. The trial is to last till November.
Over statement that it was "little helpers" of attack who are on trial, the anti-terror prosecutor Jean-Francois Ricard said dismissing it, "It is about individuals who are involved in the logistics, the preparation of the events, who provided  means of financing, operational material, weapons and a residence."
Also Read:- Border Closures hit Medical Supplies for Americans