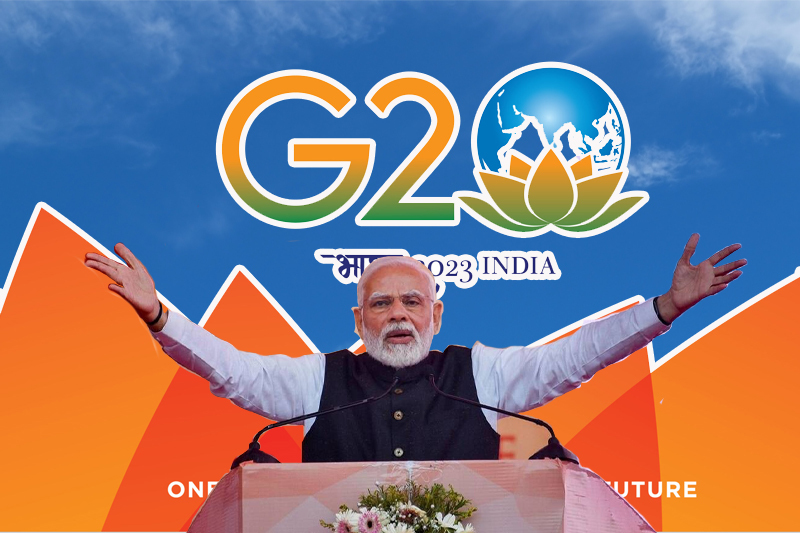 The Modi Government's G20 PR Campaign Meets Global Geopolitics
The Modi Government's G20 PR Campaign Meets Global Geopolitics
It is unclear whether India – currently the G20 president, which the Union government has been advertising for months – will agree to Ukrainian foreign minister Dmitry Kuleba addressing the gathering via a video link. G20 Foreign Ministers meet tomorrow, and the Quad Meeting that will take place in Delhi immediately after the G20 is unlikely to impress China and Russia.
The G20 foreign ministers' meeting, which begins on March 1 and 2, is likely to center on Ukraine. Last week's finance ministers' meeting already indicated that the West wants to corner Russia with all its might.
A video link to Ukrainian foreign minister Dmitry Kuleba will be discussed by the Union government for months, but it is unclear whether India – currently the G20 president – will agree. Last week, Ukrainian finance minister Serhiy Marchenko did not address the G20 finance ministers' meeting.
As part of its neutral stance on the Ukraine issue and reiterating its view that diplomatic channels should be used to resolve the crisis, India refrained from raising it at the Bengaluru finance ministers' meeting. The Financial Times reported that the G20 meeting ended "in discord" because Russia and China refused to condemn the Ukrainian war. According to the newspaper, the Indian finance minister refused to confirm if her country supported the criticism.
The finance ministers' meeting ended without a joint statement due to the differing views on Ukraine. Instead of a joint statement, a G20 Chair's Summary and Outcome Document was released that outlined the positions expressed by member countries regarding the Russian-Ukraine conflict.
The Congress leader Shashi Tharoor, in an interview with Karan Thapar for The Wire, elaborated on how this has been a diplomatic setback for India and asked, "Will India count at all?"
Keep Reading
Tharoor, a former minister of state for external affairs, declared that India's stance on Ukraine was damagingly contradictory, making the G20 finance ministers' meeting in Bengaluru last weekend a huge letdown for Indian diplomacy. He alluded to India's insistence that this is not an age of war, even as it declines to dub what is going on in Ukraine as a war and refrains from condemning Russia for initiating it.
The Modi government's plan to host the Quad foreign ministers' meeting on the sidelines of the G20 — with external affairs minister S. Jaishankar, US secretary of state Antony Blinken, Australian foreign minister Penny Wong and Japanese foreign minister Hayashi (who has not yet confirmed, according to The Hindu), are likely to poke China in the eye.
With the scheduled Quad meeting taking place soon after, any balance sought by having no statements is likely to lose its balance.
According to The Hindu, it appears that the G20 Foreign Ministers' gathering will also wrap up without a common declaration. After Amitabh Kant, India's Sherpa holds conversations with the other G20 nations' Sherpas on Tuesday and Wednesday, a concluding conclusion will be taken. In case an agreement isn't achieved, India is hoping to put out a Chairman's Concluding Statement like the one released during the Finance Ministers' meeting in Bengaluru. It is understood that though "most" countries agreed to certain sections dealing with the Ukraine war, Russia and China were okay with all paragraphs apart from those mentioned.
Alok Sheel, a former IFS officer and India's representative in multiple G20 meetings, expressed his doubts in Mint concerning the diplomatic preparation for the upcoming summit in Delhi. He said that "the bar which was set in Bengaluru needs to be met" and questioned if enough focus has been placed on the discreet diplomacy before G20 gatherings, which are necessary to form an accepted agenda and arrive at a successful summit, eventual geopolitical benefits, and power.
Also Read:- UAE calls 2023 the year of peace in Yemen