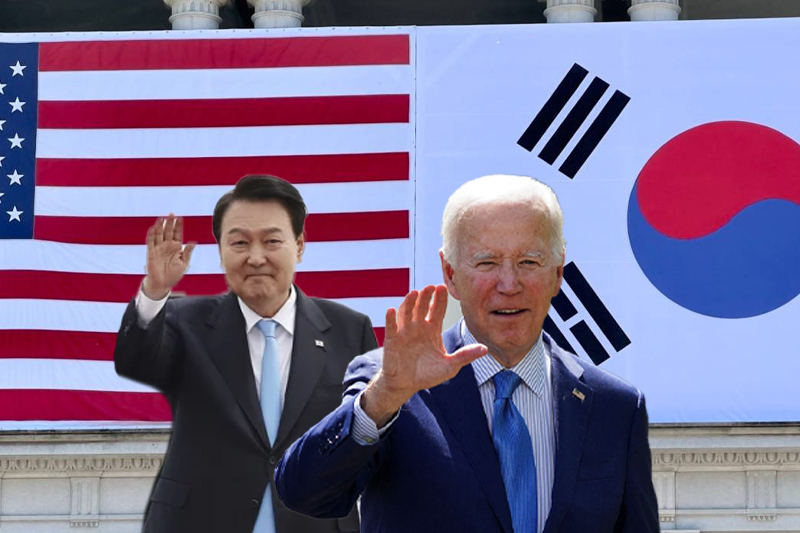 South Korea's President Yoon is set to meet US President Joe Biden
South Korea's President Yoon is set to meet US President Joe Biden
Yoon Suk Yeol, President of South Korea, is set to meet Joe Biden, President of the United States, in Washington, as he is on a six-day state visit to the US.
Yoon Suk-yeol flew to Washington on Monday. The US President is set to host Yoon at the White House in Washington this week. According to The Washington Post, the two leaders will commemorate the 70th anniversary of the mutual defence treaty. The South Korean President is also set to deliver a speech at a joint session of Congress.
Kim Tae-hyo, principal deputy national security adviser of South Korea, reportedly said, "The two leaders will spend a lot of time together over the course of many events to celebrate the achievements of the South Korea-US alliance over 70 years."
The two Presidents understand the importance of their alliance. In recent months, the US and South Korea forged their alliance to fight against North Korea, which has launched several ballistic missiles this year.
Keep Reading
Earlier this month, North Korea launched a new type of intercontinental ballistic missile (ICBM), which flew about 1,000 km (620 miles).  South Korea's military called it a  "grave provocation." South Korea's Joint Chiefs of Staff (JCS) condemned the launch.
Yoon also said in an interview with The Washington Post, "It is indeed the most successful alliance in history and, above all, an alliance based on values."
In recent months, the domestic approval ratings of the South Korean President decreased rapidly after he attended a March summit with Japanese Prime Minister Fumio Kishida and did not handle the recent US intelligence leak that revealed Washington was spying on Seoul.
Critics accused the South Korean President of prioritizing diplomacy over resolving disputes with Japan over Tokyo's wartime treatment of Koreans, wherein they were forced into sexual slavery and labour.