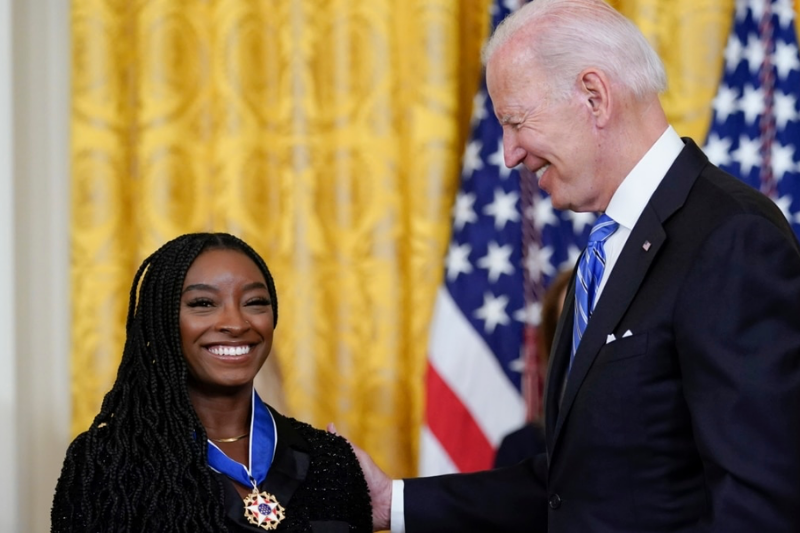 Simone Biles receives Presidential Medal of Freedom
Simone Biles receives Presidential Medal of Freedom
Simone Biles, a four-time Olympic gold winner, was awarded the Presidential Medal of Freedom on Thursday. It is considered the highest civilian distinction in the United States.
As part of a White House event, the gymnast received the honor from President Joe Biden, along with 16 other recipients, including soccer player and Olympic gold medalist Megan Rapinoe, former congressman Gabrielle Giffords, and the late Arizona Senator John McCain.
"People who have made extraordinary contributions to the prosperity, values, or security of the United States, world peace, or other significant societal, public, or private endeavors" are recognized with the Presidential Medal of Freedom by the White House.
"Hearing that I was the youngest was a huge honor," "It's kind of scary because it is the best award you can receive in your whole life, so now it's kind of scary, like, 'Oh, what do I do now?' But it's a huge honor," Biles explained to reporters in front of the White House on Thursday.
At the age of 25, she was the youngest person ever to receive the award, according to President Biden.
For her part, Biles was praised as an athlete of "once-in-a-generation athlete," with her seven Olympic gold medals, as well as the "most decorated American gymnast in history" at Thursday's ceremony.
She was honored for her efforts as a mental health and sexual assault victim advocate, in addition to her athletic successes. According to the White House, "With courage and honesty, she expands the legacy of our greatest champions who challenge the powerful and speak up for justice and the wellness of body and mind."
Related Posts
A handful of outstanding American gymnasts among them was Biles, who testified to Congress last year regarding the FBI's handling of the sexual abuse investigation against former USA Gymnastics team doctor Larry Nassar.
When Nassar was sentenced to up to 175 years in prison in 2018 for the sexual assault of hundreds of women and girls, he pleaded guilty to the charges.
Recovering from Nassar's assault had a direct impact on Biles' performance in Tokyo in 2020, she said in her testimony. She withdrew from multiple Tokyo tournaments because of her mental condition.
Biles' decision to withdraw from the Tokyo Olympics was criticized, but she was universally hailed for prioritizing her mental health and listening to her body.
As a result of Nassar's abuse, Biles has spoken previously about suffering from depression and requiring anxiety medicine. She has already discussed her experience in the Tokyo Olympics, saying that it taught her to stand up for herself.
She told reporters on Thursday that Biden praised her for having the bravery to speak out about serious matters. "It was really exciting to hear that and to know that my hard work is paying off … he said that's why they chose me," she added.