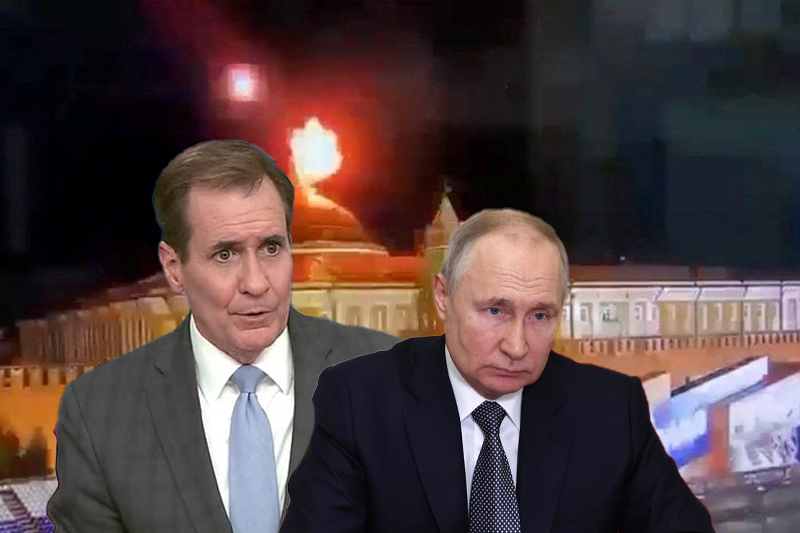 Putin Assassination Claim: Did US mastermind Moscow drone attack?
Putin Assassination Claim: Did US mastermind Moscow drone attack?
According to Russian President Vladimir Putin's spokesperson, the Kremlin was caught in an attack early on Wednesday. A video on social media showed smoke rising over the large government complex in central Moscow.
Putin was not in the building at the time of the alleged drone attack. A day after claiming Ukraine was behind the incident, Putin's spokesperson said Washington had also lent its support to it.
While Kyiv has stressed it had nothing to do with the alleged drone attack, the US has rejected Russian claims that it masterminded the incident aimed at assassinating Putin. Ukraine has called it a false flag operation by Moscow, accusing its neighbour of staging the attack to escalate the brutal invasion.
Even though Russian attacks on Ukraine have continued without any reduction in intensity or strength, there is no indication yet of an intensification on Moscow's end.
Keep Reading
A drone hovering over Kyiv, not too far from the presidential office, was shot down on Sunday evening. Officials later acknowledged it was a Ukrainian drone that had "lost control" and therefore, had to be brought down to prevent "undesirable consequences".
On Thursday, without offering any evidence, Kremlin spokesperson Dmitry Peskov said Washington was "undoubtedly" responsible for the alleged attack, adding decisions on such incidents are made in the US, and not in Ukraine.
"Peskov is just lying there," US National Security spokesperson John Kirby responded.
The claims came as Ukrainian President Volodymyr Zelensky visited the International Criminal Court (ICC) in the Netherlands. He listed a number of alleged war crimes by Russia and called for the creation of a special tribunal to address Moscow's "crimes of aggression".
The ICC has already issued an arrest warrant for Putin, blaming him for alleged war crimes during the Ukraine war, including the illegal deportation of children from Ukraine to Russia. However, the court has no mandate to prosecute the crime of aggression.