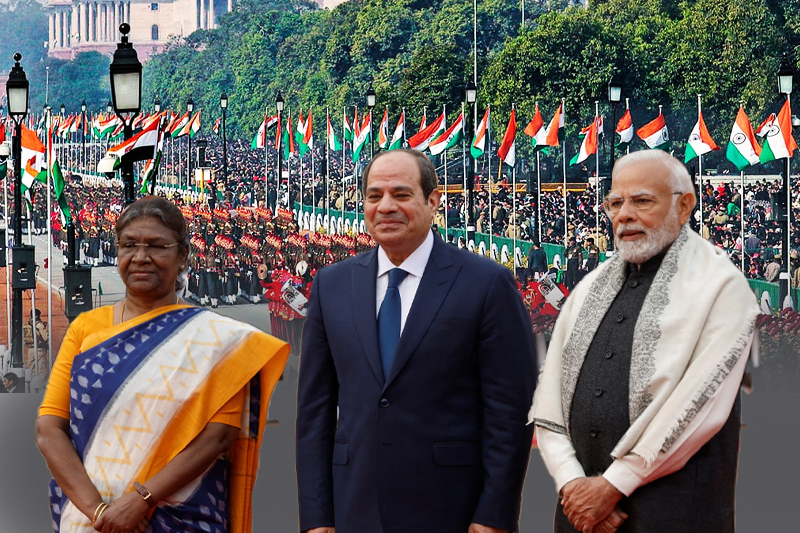 Prospects galore for India-Egypt relations
Prospects galore for India-Egypt relations
India has extended an invitation to Egypt to serve as the honored guest at its Republic Day celebrations on Jan. 26, 2023. After seven decades of close ties between these two nations, this momentous decision reflects the changing strategy India has adopted toward the Arab world. This relationship dates back to Cold War times when India aided Egypt's nationalization of the Suez Canal and together they established the Non-Aligned Movement. Now, in more recent years, that bond has been strengthened even further.
India and Egypt made a joint announcement on Jan. 22, 2023, that they intend to upgrade their existing relationship to a strategic partnership, addressing four main areas: political and security cooperation; economic engagement; scientific and academic collaboration; and cultural and people-to-people contacts. Five Memorandums of Understanding were inked, covering culture, IT, cyber security, youth matters, and broadcasting. Indian Prime Minister Modi remarked that the potential for cooperation in defense and security is "unlimited". For India, having a strategic partnership with Egypt is very beneficial not only because of the influence Egypt holds internationally but also because it provides India with greater access to African countries.
In this regard, India and Egypt's strategic partnership has profound implications for both nations and their geopolitical strategies. They have agreed to bolster collaboration between defense industries, share counter-terrorism intelligence, and maintain frequent exchange of information on the subject. Egypt's advantageous geographic location near UAE and Saudi Arabia has further benefited India tactically. Consequently, trade plays a vital role in this venture as Indian firms now possess an opportunity to tap into Egyptian markets which are laden with investment potentials and incentives. Already, numerous Indian businesses have contributed to Egypt's economy by dabbling in the pharmaceuticals, IT, textiles, and garments industries. All in all, India-Egypt Strategic Partnership can be regarded as a pathbreaking step towards galvanizing the bilateral ties of both countries.
Keep Reading
India and Egypt feature deep ties that present various possibilities for mutual benefit. Both countries could take advantage of the opportunities presented by bilateral and multilateral collaboration in science, technology, agriculture, water technology, and more. Also worth exploring are tourism promotion and cultural exchange programs, as the Indian diaspora in Egypt plays an integral role in strengthening the bond between India and Egypt.
Despite the strong partnership between India and Egypt, there are several issues posing a challenge. In particular, Egypt is undergoing a major financial crisis as food prices rise and unemployment increases, causing many banks to struggle. This has made partners such as the GCC wary of Egypt's involvement with the military. Furthermore, following the Ukraine crisis commodities like eggs and cooking oil are scarce and expensive, exacerbating the problem further. To move forward, Egypt needs stable internal reform in order to strengthen its ties with other countries and make these partnerships successful.
Moreover, analysts generally recognize Chinese involvement in Egypt as a substantial obstacle to Indian relations. They argue that President Sisi's appearance at the Republic Day festivities is strongly connected to Chinese interests because of Beijing's rising investments in infrastructure projects in Egypt. Prime among these is the Suez Canal which, due to its location on the Indian Ocean, has a great influence on the region's geopolitics. Thus, India must find ways to reinforce maritime security and energy ties with Egypt.
Both India and Egypt stand to benefit from the development of their defense ties, as this will help strengthen Egypt's defense capabilities while also providing India with a market for its defense production initiatives. Furthermore, there are other areas of cooperation that have the potential to propel both countries' economic prospects, such as information technology and agriculture. Ahead of President Sisi's visit, it is important to make an effort to overcome any obstacles impeding the relationship and galvanize the existing points of convergence.  This visit can be seen as making a strong start in fostering a new chapter in India-Egypt relations.
Also Read:- Mohammed bin Rashid and WFP collab to send 5.4 million meals to Rohingya refugees