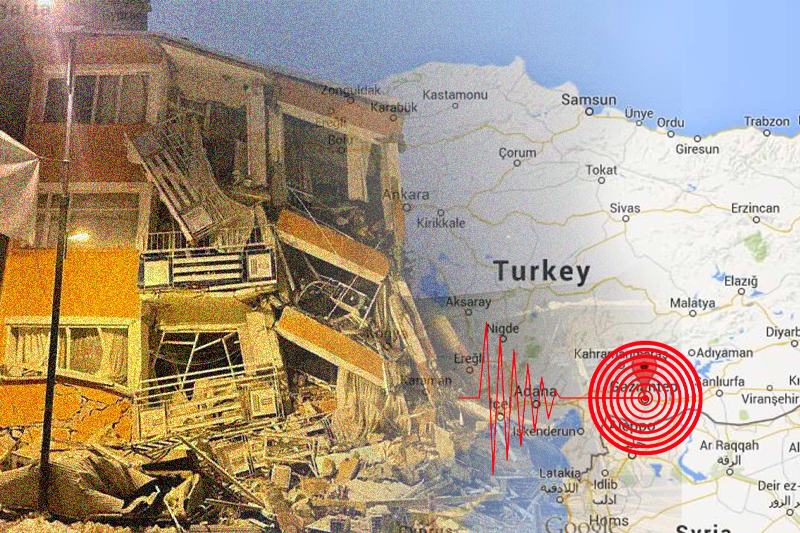 Powerful 7.8 magnitude earthquake hits Turkey, at least 10 killed
Powerful 7.8 magnitude earthquake hits Turkey, Syria, at least 21,000 killed
Last updated on February 10th, 2023 at 08:43 am
A strong 7.8-magnitude earthquake struck Turkey at 4:17 am local time on Monday, sending residents into the snowy streets and prompting the Turkish government to issue its highest emergency alert.
The quake – 10 km deep, according to the German Research Centre for Geosciences (GFZ) – was centred about 32 km from Gaziantep, a prominent city and provincial capital in Turkey's south-east, and struck about 26 km from the town of Nurdagi. Another 6.7-magnitude quake struck at a depth of 9.9 km near the site of the first one about 10 minutes later, US Geological Survey reported.
Several videos on social media show destroyed buildings in a number of cities in the southeast of the country.
A number of commentators reported tremors being felt across the border in Lebanon, Syria, Greece, Israel, and Cyprus. Several buildings have reportedly collapsed in the neighbouring countries as well.
Keep Reading
Many people in Turkey remain stuck beneath the rubble of buildings, News18 reported.
President Recep Tayyip Erdogan tweeted his "best wishes" to people affected by the quake, adding "our search and rescue teams were immediately dispatched to the areas affected."
The country is one of the most active earthquake zones in the world. Experts have long raised warnings against a large quake devastating the capital Istanbul, which has offered the green light to widespread building without safety precautions.
The powerful 7.4-magnitude earthquake from 1999 killed over 17,000 people, including about 1,000 in Istanbul. In January 2020, a 6.8-magnitude quake struck Elazig, taking the lives of more than 40 people. And the following October saw a 7.0-magnitude quake, that struck the Aegean Sea, getting over 1,000 people injured and killing 114.