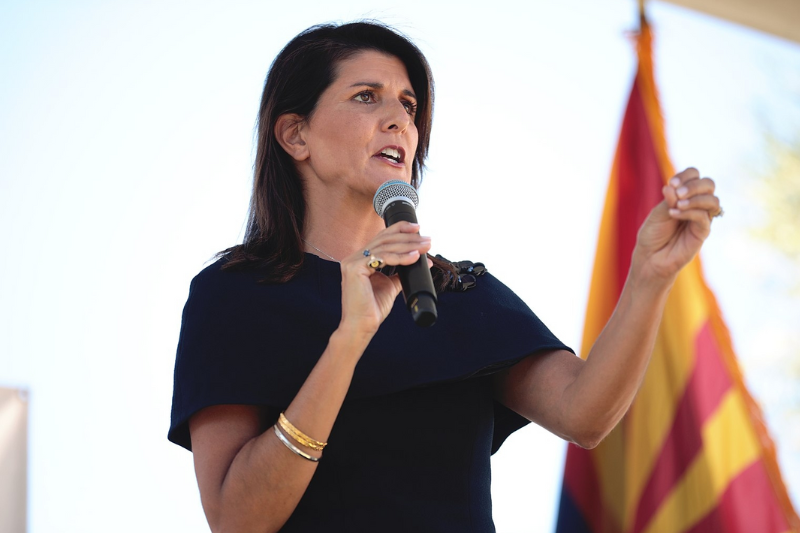 nikki haley raises $1 million after gop inaugural debate
Nikki Haley raises $1 million after GOP inaugural debate
The race for the GOP presidential nomination has two Indian-Americans – entrepreneur Vivek Ramaswamy and former South Carolina Governor Nikki Haley.
Haley raised more than $1 million in less than 72 hours following last week's maiden Republican presidential primary debate in Milwaukee, Wisconsin, her campaign said on Monday.
"Haley's post-debate momentum is real and growing," the campaign noted after the politician addressed a massive rally of her backers in South Carolina.
The campaign highlighted the enormous size of the crowd of her supporters, adding Haley had to greet people in "not one, not two, but three overflow rooms".
Haley Spoke On Partnership Between Russia And China
Addressing the gathering, the Indian-American described the partnership between Russia and China as "an axis of evil", stressing Beijing has been planning a war with the US for years.
She underscored the need to change the way Americans deal with the Chinese, adding "China's never wanted to be like us. They want to be communist."
Informing Fox News Digital in an interview, Haley highlighted the "million dollar" her campaign raised in the first 72 hours following the debate, adding: "We've had a lot of people join."
Popularity of the former South Carolina governor has gone up after the inaugural debate last week. Running strong on polls despite legal setbacks, Donald Trump chose to skip the event.
Keep Reading
Trump Choosing To Not Attend The Debate
The highly-anticipated showdown involved contenders that had made the cut by meeting strict criteria set by the Republican National Committee.
The participants had to meet a number of thresholds, including chalking up tens of thousands of individual campaign donations and having sufficient support in national polls.
They were also required to sign a pledge to back the eventual GOP presidential candidate. Trump – the overwhelming front-runner in the contest – has refused to sign the same.
Although opinion polls continue to place him well above his Republican rivals, the former US president chose to not attend the debate in person.
Revealing the reason, Trump took to his Truth Social platform before the clash, writing: "The public knows who I am & what a successful Presidency I had."
The 24 hours after the debate were Nikki Haley's best day of fundraising since launching the bid earlier this year, her campaign mentioned, the daily reported.