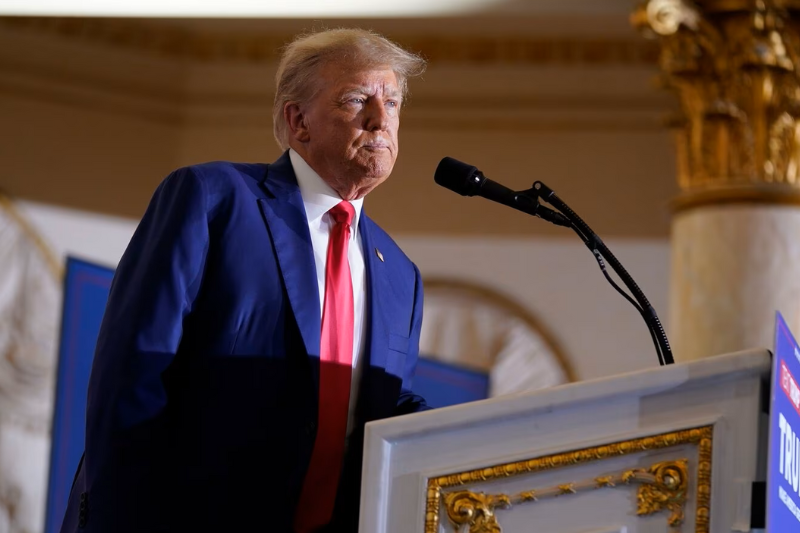 donald trump joe biden will lead us to world war iii
Donald Trump: Joe Biden will lead US to World War III
The former president of the United States, Donald Trump, calls current US President Joe Biden a mental catastrophe, and says that he will lead the US to World War III.
Donald Trump, who served as the 45th president of the United States from 2017 to 2021, said that Joe Biden, who is the 46th and current president of the United States, has gone mad. He said, "Biden has gone mad, a stark raving lunatic with horrible and country threatening environmental open borders and DOJ, FBI." Trump further termed Biden as "a mental catastrophe," who can lead his country to World War III.
Trump went on to say, "The US will end up in WW III because of Biden." Trump also called Biden "dumb" and "incompetent." 
Keep Reading
Donald Trump
Donald Trump is currently in the limelight over his court trials for conspiring to overturn the 2020 US election results. Trump is facing 13 charges over the state's 2020 election results. He also faces legal charges over the alleged mishandling and possession of classified documents.
He is also running for the 2024 US Presidential Election, which is scheduled to be held on Tuesday, November 5, 2024. The election will elect the President and the Vice President of the United States. 
Earlier this month, Trump was reportedly indicted in Georgia over illegally trying to overturn his 2020 election loss. Fulton County District Attorney Fani Willis brought the legal charges against Trump, which was his fourth criminal case. His allies were also charged by the jury in Georgia.
The jury named 19 defendants and 41 criminal counts in all. Mark Meadows, Former White House Chief of Staff, Donald Trump's personal attorney Rudy Giuliani and lawyer Jeffrey Clark were among the defendants. The indictment reportedly alleged that Trump advisers tried to change the election results in Arizona, a southwestern U.S. state.
According to reports, Donald Trump was also indicted by Judge Moxila Upadhyaya over the case related to his 2020 election loss. The judge read charges against him in the 45-page indictment brought by Jack Smith, Special Counsel for the US Department of Justice, at the federal courthouse in Washington.
After the judge read the charges, Trump reportedly said, "Not guilty."
The allegations and court hearings can affect Trump's career. It can also undermine his presidential run in the upcoming elections in 2024.