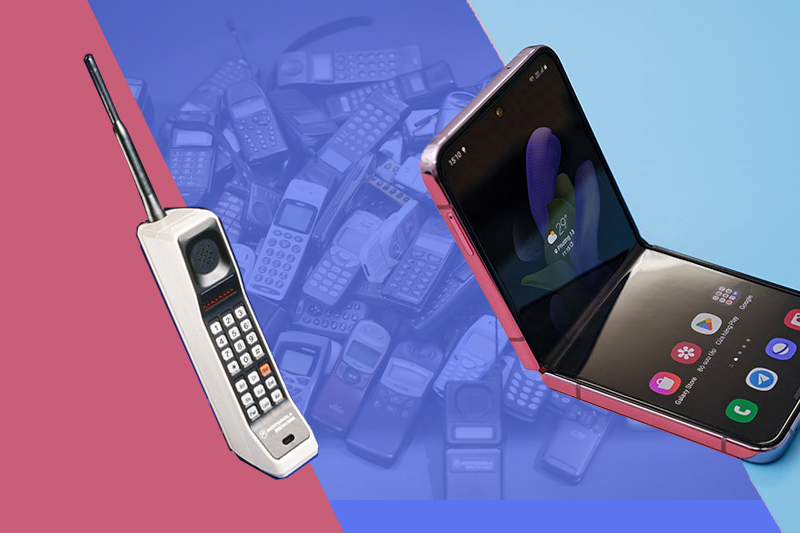 Mark your Calendars: World's first mobile phone call was made 50 years back today
Mark your Calendars: World's first mobile phone call was made 50 years back today
From brick-sized handsets weighing almost a kilo to powerful computers that slip into our pockets today, mobile phones have witnessed massive innovation in the past 50 years. Here is a concise timeline of all the major events marking the device's innovation.
1973: Say Hello, Moto
On April 3, 1973, an engineer at Motorola, Martin Cooper, made the world's first call from a mobile device – called DynaTAC – to a competitor working at Bell Labs, Joel Engel.
But it was going to take ten more years for the first mobile phone to enter the market. Motorola started selling the DynaTAC 8000X in the American markets in 1983 for $3,995. Popularly called the brick, it measured 33 centimetres and weighed just shy of a kilo.
1992: "Merry Christmas"
Vodafone employee Richard Jarvis received the world's first text message on December 3, 1992. Almost three decades later, the message "Merry Christmas" would sell at an auction in the form of a Non-fungible Token (NFT) for $150,000 in 2021.
Keep Reading
1997: Nokia introduces the 'Snake'
Finnish brand Nokia introduced a number of innovations thereafter. In 1997, its 6110 model introduced the immensely popular 'Snake' game to its users. Just a couple of years later, the company launched its 7110 model – the first phone to use wireless networks to browse.
The same year as well, the 3210 brings the world a little bit closer to predictive writing. In 2003, Nokia introduced the record-smashing 1100 model and shifted roughly 250 million units, making it the best-selling mobile phone in history.
2001: Japan uses 3G
Japan became the first country to benefit from the 3G mobile network in 2001, introducing its citizens to high-speed internet.
Nevertheless, the development followed a number of other Japanese innovations in the past couple of years, including the Kyocera VP-210 in 1999, which flaunted video-calling capabilities and the Sharp SH04 in 2000, which boasted a built-in back camera.
2007: World gets its first iPhone
Steve Jobs introduced a massive crowd to the world's first iPhone in 2007. He promised a phone, an internet communicator, and an iPod all in a single device, which would eventually be priced between $499 and $599. Just a year later, the App store was launched.
The HTC Dream was also launched in 2008, becoming the first smartphone to use Google's Android operating system.
2009: SMS will not stay that popular anymore
WhatsApp launched in 2009 and was quickly followed by several other messenger apps, such as WeChat, Telegram, and Signal. These applications, which rely on the internet rather than traditional networks, eventually made SMS less popular in 2012.
High-speed 4G coverage was first introduced to the people of Stockholm in Sweden in 2009.
2011: Voice assistant and emoji take the world by storm
Apple, Google, and Amazon introduced voice assistants, helping users send messages, make calls, set alarms and appointments, and search the internet by simply providing a voice command. While Siri was introduced first, in 2011, the other voice assistants came in later.
'Emoji' fever also started ruling over the world the same year.
2019: 5G and Foldables
South Korea became the first country to introduce its citizens to very high-speed 5G internet coverage on April 5, 2019. Moreover, in the same year, Chinese firm Huawei and South Korea's Samsung became the first major manufacturers to launch foldable screen smartphones.