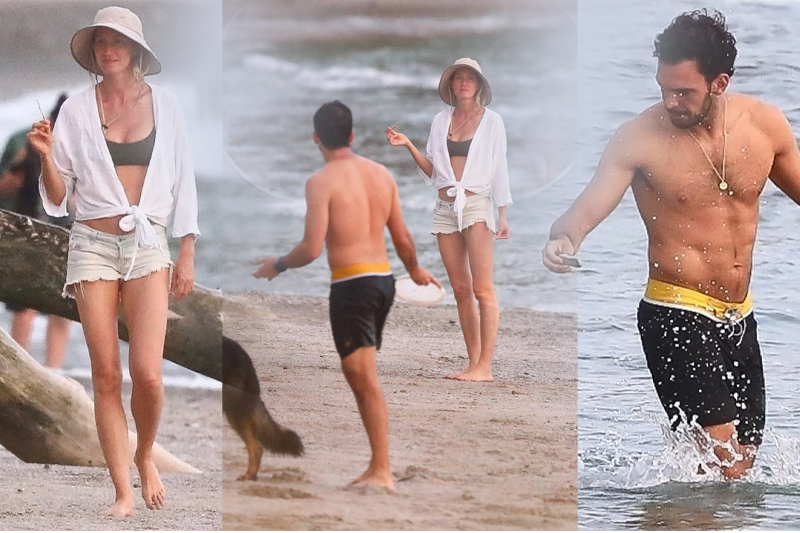 Gisele Bündchen Has Been Spotted On A Coastal Getaway With Her Jiu-Jitsu Instructor
Gisele Bündchen Has Been Spotted On A Coastal Getaway With Her Jiu-Jitsu Instructor
Gisele Bündchen is currently ushering in an era of "revenge holidays" by traveling to Costa Rica with her Jiu-Jitsu instructor. Move over, revenge dressing.
The supermodel, who divorced NFL titan Tom Brady in 2022, was spotted in the nation of Central America with martial arts trainer Joaquim Valente.
And if the tabloids are to be believed, despite his role as Gisele's instructor, it appears that the two have been practicing very little to no jiu-jitsu while on their beach vacation.
Without implying anything improper, but given that Gisele and Joaquim have been spotted together three times in Costa Rica in less than six months, some people have begun to wonder if the supermodel and the top self-defense instructor might be exhibiting the beginnings of a romance.
Keep Reading
Are you interested in learning more about the Miami-based martial arts trainer?
Everything you need to know about Gisele Bündchen and Joaquim Valente, including what the Brazilian beauty has said about the relationship, is provided below.
Joaquim Valente: Who Is He?
Little personal information about Joaquim is available online, except for a private Instagram account and a few covert photos of him with Gisele, but super sleuths have still managed to unearth a few nuggets of knowledge about the jiu-jitsu expert.
The Miami-based martial artist currently instructs alongside his siblings at the Valente Brothers academy, which is run by his family. The academy's website states that Joaquim relocated to Miami in 2007 to pursue criminology studies.
Where Did Joaquim Valente and Gisele Bündchen Meet?
If you've been following the Brady/Bündchen family since their 2009 wedding, you'll be aware that Joaquim's name has previously appeared in headlines next to Gisele's.
Gisele posted a video of herself using a series of jiu-jitsu chokes to take down the instructor, and nearly a year before their most recent sighting, the couple made headlines.
The actress wrote in the caption of an Instagram photo, "Since I started practicing self-defense, I feel stronger, more confident, and empowered. I believe it to be a crucial skill for everyone, but especially for us women. I appreciate @ValenteBrothers for being fantastic instructors and for making training so enjoyable.
According to PEOPLE, Gisele started her training when she enrolled her son in lessons at Valente's academy in 2021.
Joaquim Valente and Gisele Bündchen rumored to be dating?
That is, after all, the key query. The couple has only been seen together so far on platonic vacations in Costa Rica. However, it might not seem strange to the elite to bring your trainer along on an otherwise romantic vacation.
Given that Gisele owns a home in Costa Rica, it doesn't seem out of the ordinary for Joaquim to train in Jiu-Jitsu alongside the humanitarian and her family. Even though Gisele continues to claim to be single, the pair has been spotted doing more relaxing activities than exercising, so we're not sure how accurate this story is.